"Ultraman Florida, a 3 day athletic endeavor designed to test an athlete's physical and mental limits through a journey that touches the soul with memories of lifetime. The race covers a total distance of 321.6 miles (517.5 kilometers), around central Florida, it requires that each participant complete a 6.2 mile (10 K) open water swim, a 263 mile (423 K) bike ride, and a 52.4 mile (84 K) ultra-marathon run. "
Pre-Race Week
Monday, February 13th
Some people believe that sicknesses are the consequence of evil spirits leaving your body. While I don't necessarily believe that to be true, it sure felt that way two weeks prior to the race, when my cold turned into the flu.  With labored breathing and deep coughs, my training slowly grinded to a halt in the two weeks leading up to the Ultraman Florida race.  By the time I embarked the plane to Orlando, I was feeling a little better, but not well enough to complete a 321 mile race. My single consolation was that the worst of the flu wouldn't hit me on race day.
After getting off my flight, at the baggage claim I grabbed my bike box, giant suitcase and two back packs and started shuffling towards the curb. My first encounter in Orlando was with a friendly young couple from Sacramento in town for a church event. The wife started asking me questions about my race, until maybe she was giving me a little bit too much attention, because the husband looked me square in the eye and says, "I hope you don't die in the race!"  Sick, tired and with a lot on my mind, I was a bit taken aback. The wife smiled at me, and said "Nice race" while nodding her head, rolling off her husband, as if to apologize for her husband's hater comment.
For a rental car I went with a mini van, I figured if it would be good enough for a the soccer playing family in the commercial I saw, it would be enough for me, my three crew members (my cousin Vamsi and two friends) along with some bikes and triathlon equipment.
By the time I was on the road, headed to the Airbnb it was well past midnight. It was a smallish two bedroom apartment with a pond in the backyard and geese walking around.  It was nothing fancy, a bit rundown, but it would get the job done, the owner of the Airbnb met me, gave me the key, and by 2AM I was laying in bed knocked out, staring at the ceiling, passing out into a slow deep slumber, with Ultraman on my mind.
Tuesday, February 14th
Thanks to my alarm clock, and routine of waiting up by 5AM to train West Coast time, by 7AM sharp east coast time I was awake, sick, feeling exhausted, but awake.
As an Architect / Project Manager, I am a firm believer in deadlines, tight schedules, and having a plan that includes breaking up time into clearly defined segments of month, weeks, days, minutes, and seconds. I arrived in Orlando with my own homemade binder that included spreadsheets, print outs, maps, and calendars of everything I could possible want or need, along with a detailed plan. My plan covered everything from the time I woke up until the moment I went to sleep (thanks to my job experience as a scheduler).
I left the Airbnb in the early morning, to get some food at a breakfast place and ended up at the nearby Publix grocery store, and came home to have oatmeal, toast and some avocado for breakfast. Still feeling sick, I held everything together, until 10:30am when onto the floor I threw up my entire breakfast along with everything I'd eaten the night before. It was completely miserable, for a moment I even doubted my ability to start the race, but I just kept reminding myself, "one breathe at a time".  I focused on taking the next breathe and doing the current task at hand and just kept moving.
At noon I gathered my strength and began putting my bike together, followed by a visit to the bike shop for inspection.  Once there, I saw some of the other athletes, including Juanma, Prithvi, Kaustubh, Steffi and a few others. The energy was running high and everyone was focused on getting their bikes ready. Prithvi, Kaustubh and I decided to grab some lunch; I was starving after running on an empty stomach since being ill in the moring. I felt better after the meal and we each went our separate ways making plans to swim and ride the next day. I decided to drive by the swim area and studied the course. On my way back to the Airbnb, I stopped at the dollar store and got all the cheap essentials: sponges, organizers, etc. and then got some dinner and called it a night.
Wednesday, February 15th
My morning started at 6 am when I rushed to the airport to pick up Marcos. I was glad that he was able to make it a couple of days early and help me prepare for the race. Marcos brought with him some contagious happy energy. I packed everything to move to a second Airbnb (an apartment close to the swim start which reduced drive times).  We checked in and rested a while before heading to the Athlete check in at Westlake resort. I completed all the check in requirements and met with the other athletes as well as with the organizers. I had a good conversation with Steve King, Chuck and other Athletes. After the athlete check-in, we followed the plan and went to get all the groceries and supplies that we would need for the next four days, making stops at Costco, Wholefoods, as well as other places. I bought enough groceries for an entire family for a week. Went back to rented place and called it a day so that we could start our next day with a morning swim and bike and then go to the Athlete briefing at the Westlake resort.
Thursday, February 16th
Before an ultra triathlon there is a pre-race meeting, to go over everything everyone needs to know.  The official race briefing ended at 230pm , as the athletes streamed out of the conference room at Westlake Resort like drops of rain, the 6.2 mile swim awaiting us the next morning at lake Conway was the puddle that all the drops would run into. I could feel a type of electricity flowing through my body with the anticipation, a current so to speak, moving through my body, we were at the Ultraman Florida and it was time to "let it go". Let the training go, let my fear of swimming go, let my struggle to believe in myself go, because through letting go, only then, could I reach something new and be transformed.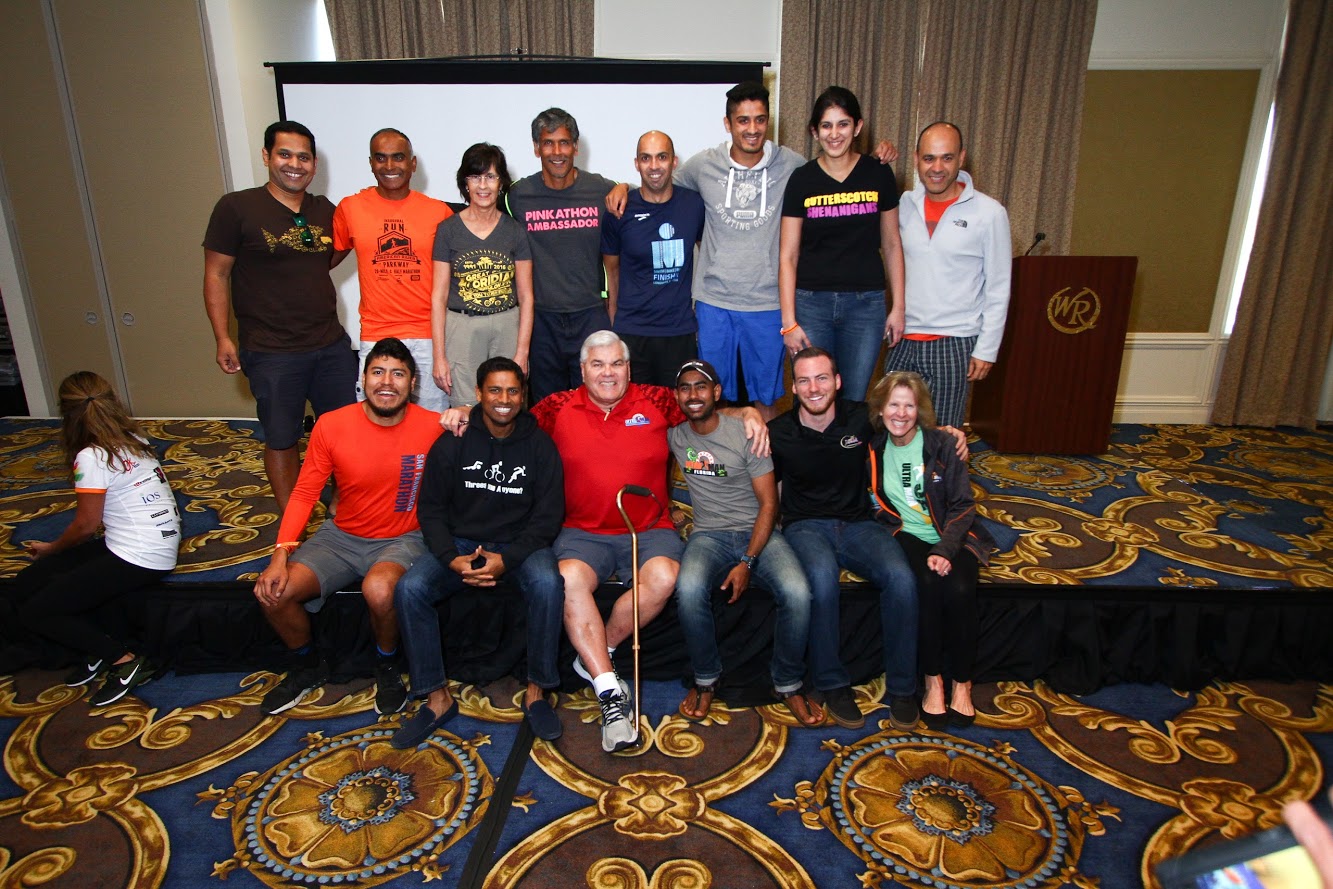 The plan after prerace meeting was simple, it was to grab my crew, head back to the AirBnb, then review our action plan for the days to follow. The action plan involved making sure everyone was on the same page as far as what I needed to be successful.
Make sure everyone knew what they needed to do, everyone knew the Plan A, Plan B, and Plan C, and make sure we were positioned to do everything in our power to get the maximum out of this race. Our mission? To get me across the finish line as fast as possible and to give me the highest chance possible of giving an excellent performance.
An Architect and Project Manager by trade, attention to detail is not only a necessity, it's what I pride myself on, and what I am known for in my field.
My race plan was by the calorie, by the minute, by nutrition, by stress level, by stress course and by the hour. Every calorie I would intake, the amount and type of fluid I would consume, we tasked each crew member with specific tasks.
After a 25 minute drive we got back to the Airbnb apartment, I had the code to open the front door of the apartment but when I tried to open the front door of the Airbnb, the deadbolt chain kept me from opening the door. I wondered if somehow we had gotten accidentally locked out. Marcos looked through the crack in the door and saw that the TV was missing and our items were everywhere, "Someone broke in". I felt a sinking feeling in the pit of my stomach.
I felt a numbness creeping through my body, a feeling of dejavu, like a bad dream or something I'd experienced before. Jared went to the back side and saw the broken window and the items everywhere.
We entered the apartment through the back door, and saw all of our personal belongings rifled through, clothes were everywhere, items were everywhere, our place had been ransacked. Our laptop and cameras were gone, along with our tablet and e-reader, gone, plus other electronics.
Thankfully the critical items I needed for my triathlon the next day were still there. They hadn't taken my wetsuit, and my bike had been with me. At that moment I realized something, nothing mattered to me in that moment except for Ultraman Florida. The thought in my head was how do I not allow this person to disrupt my plan to have a personal breakthrough, to affect my destiny.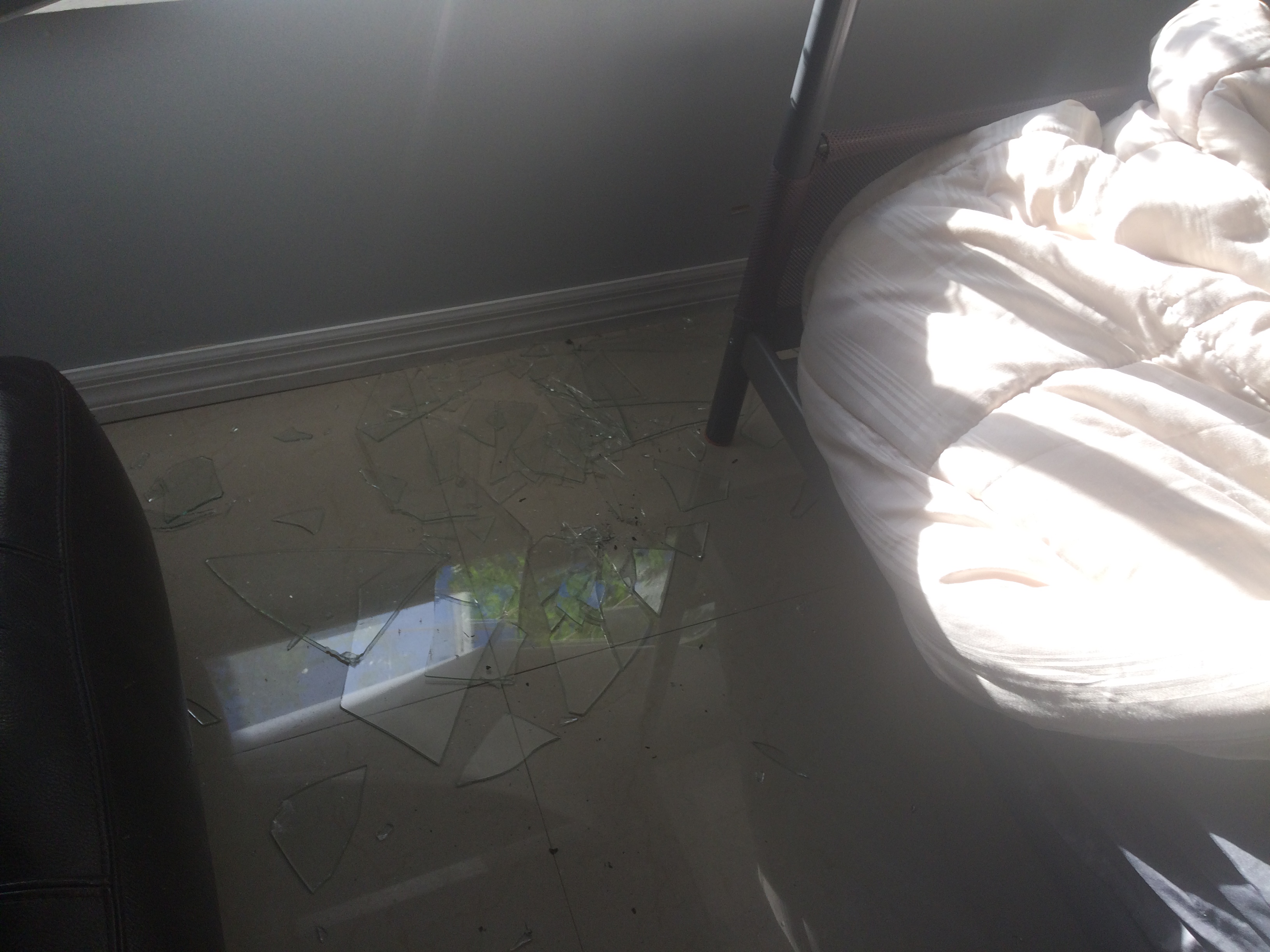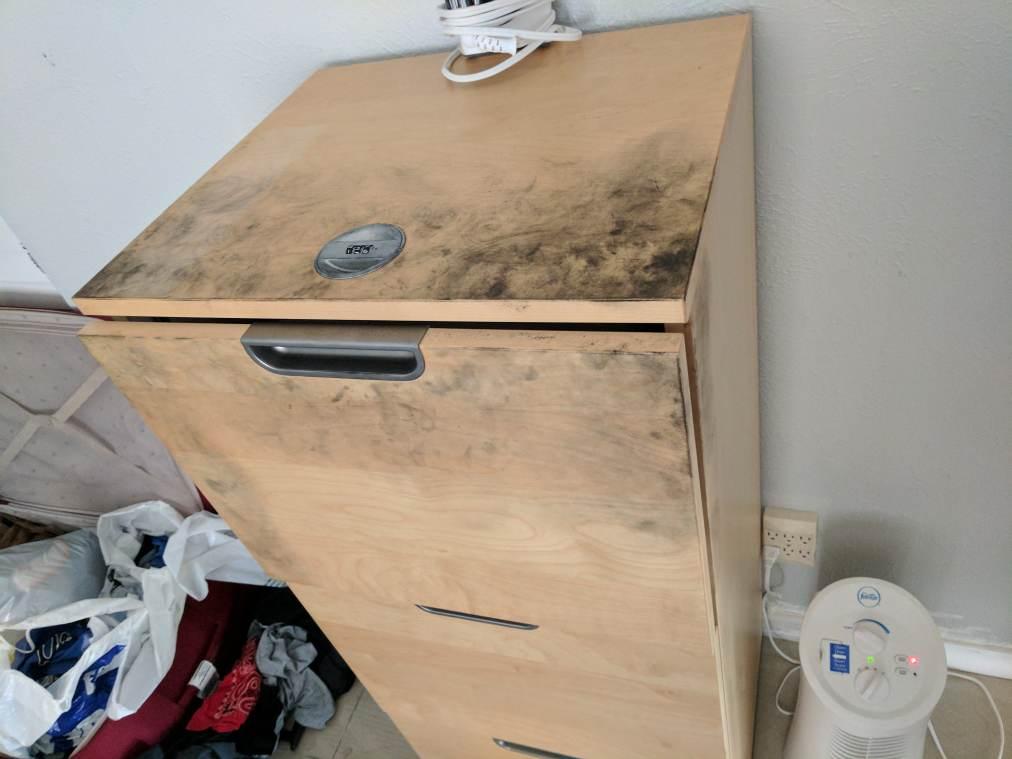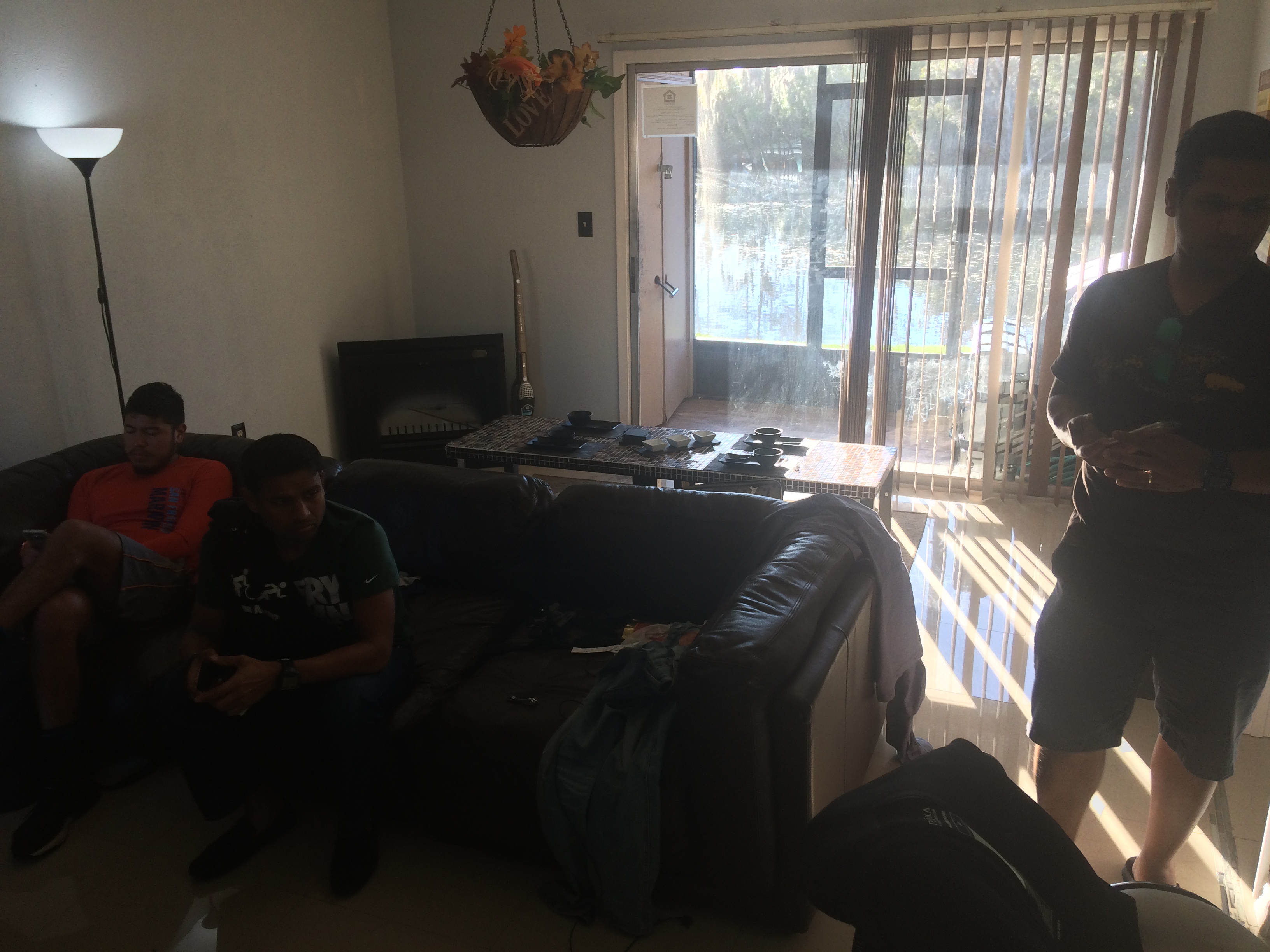 One of the most important lessons I've learned in life, a lesson which I learned from my father, is the importance of remaining calm in the face of adversity. I'll never forget when I was in second grade, we had just recently moved to a new city (Vijayawada) for my father's job. While riding a motorcycle back to the relatives place in another town he became the victim of a hit and run, which threw him off the motorcycle onto the side of the road, drenched in blood and unconscious. He was injured so badly, that two days went by before we knew what had happened, after rushing to the hospital we found my father completely immobilized and struggling to do basic tasks. He was the only breadwinner in a completely foreign city, with three kids plus my cousins to take care of, it was a full month before he was finally discharged from the hospital.
For months, I watched my father limp around the house, fighting through the pain and pushing hard to get to the office, while dealing with temporary disability. He hid his pain, anxiety, and insecurity, and in its place he displayed tremendous silence, patience, and strength.
As we went through our belongings to see what was missing I could see the fear, doubt and disappointment, in the eyes of my crew. In my profession as an architect and project manager, I have handled many time constrained critical projects (Port Miami Tunnel, MGM Grand Residences in Vegas, Pomona College renovations in Los Angeles, etc. ) and I have developed a large set of tools for dealing with high pressure situations. I assigned my three crew tasks to do and communicated what my needs were in order to accomplish the goal.
The police report and investigation took over three hours, and was eating into my prep and sleep time.  Airbnb and my Airbnb host weren't much help either, over the phone both tried to avoid taking responsibility for putting us in a dangerous situation so as to avoid having to pay to replace my stolen goods.
My cousin, Vamsi made me a meal, but being distracted I didn't tell him what I wanted. Vamsi ended up serving me a giant bowl of Quinoa, lentils, beets and kichadi but it wasn't cooked the way I liked it. Bless Vamsi for trying, but I hate it when the rice and lintels are that hard!  So I'm going through the apartment to see what's missing, cleaning up the giant mess of items strewn everywhere, while eating this giant bowl of cooked Kichadi!
We tried to get the good vibes of the prerace conference back, by going booking a room at the WestLake resort (where the prerace conference had been) and getting rooms for the night. Lesson learnt – don't ignore the suggestions of the experienced race organizers.
When adversity hits, you have to deal with it and keep moving. That is one of the things that the sport of triathlon has taught me. Another thing I've learned is that every time you get into the water, the water is different. The temperature, the way it feels, the weather conditions, water is ever changing and challenges us to remain flexible. It reminded of the stressful job situation I found myself in when the economy tanked. Even missing a day at work would have put my job and immigration in jeopardy. So I went to work even when I was not feeling well. I felt like dealing with real life difficulties has tremendously helped my training.
My three crewmembers left me at the room we booked at the Westlake Resort to sleep and said they'd handle the rest.
I laid in bed in the hotel room, in the pitch black, and found myself staring at the ceiling. No matter what I did, I just couldn't sleep. Maybe it was the excitement, the nervousness, the stress, or the feeling of everything coming to a point, but instead of falling asleep I kept tossing and turning in bed. Next thing I know I'm checking my phone, social media, and watching kitten and puppy video on Youtube. That's when I knew I was in trouble. Over the course of the night I only managed to sleep two hours total, when my crew came back to check on me at 1AM, I was still tossing and turning. At one point one of my crew started snoring loudly, I had to resort to an age-old trick to get him to stop. I pushed him, pulled his pillow away from him, then gave a little tug on his blanket, until eventually he adjusted his position in the bed and stopped snoring!
The one thing that finally made me feel like I'd be alright, whether I slept or not, was rewatching a video I'd received from my friends kids (Damodara family), showing them cheering for me "Good luck uncle, you can do it!". To see them so excited for my race sent a chill down my spine, no way I could let them down.
Day 1: 6.2 Mile Swim, 92 Mile Bike
Friday, February 17th
I woke up tired and exhausted at around 4 am, not a good sign the first morning of a 321 mile long race. I had instant oatmeal in a little packet, some honey, banana, and drank some water. A perfect nature call around 4:45  gave me some relief.
My crew, Jared, Marcos and Vamsi, were quick to get up in the morning, packing and loading the car and heading out from the resort by 5AM. By 5:40AM we were at the race start. I had my warm clothes on, got checked in, then I then handed off the sleep tracking watch, to the sleep research study team, so they'd have the data for their study, which I had volunteered for, along with some other racers.
My bike was all checked in with the help of Vamsi and Marcos, they were also going to get everything set up for the transition while I was out swimming. I couldn't give specifics on what to do, so I told them to watch the other athletes transitioning and do whatever needed to be done to get me in and out of the transition as quickly as possible. Jared was all set with his back pack, nutrition and essentials, along with his extra pair of goggles, electrolytes, nuts, probar, and other goodies. The one thing that would have really hit the spot was some coffee. I had never trained with a kayak escort, Jared and I chatted about the escort strategy but weren't totally sure how it was going to work. I had faith in Jared, he is an experienced swimmer who completed a double anvil triathlon.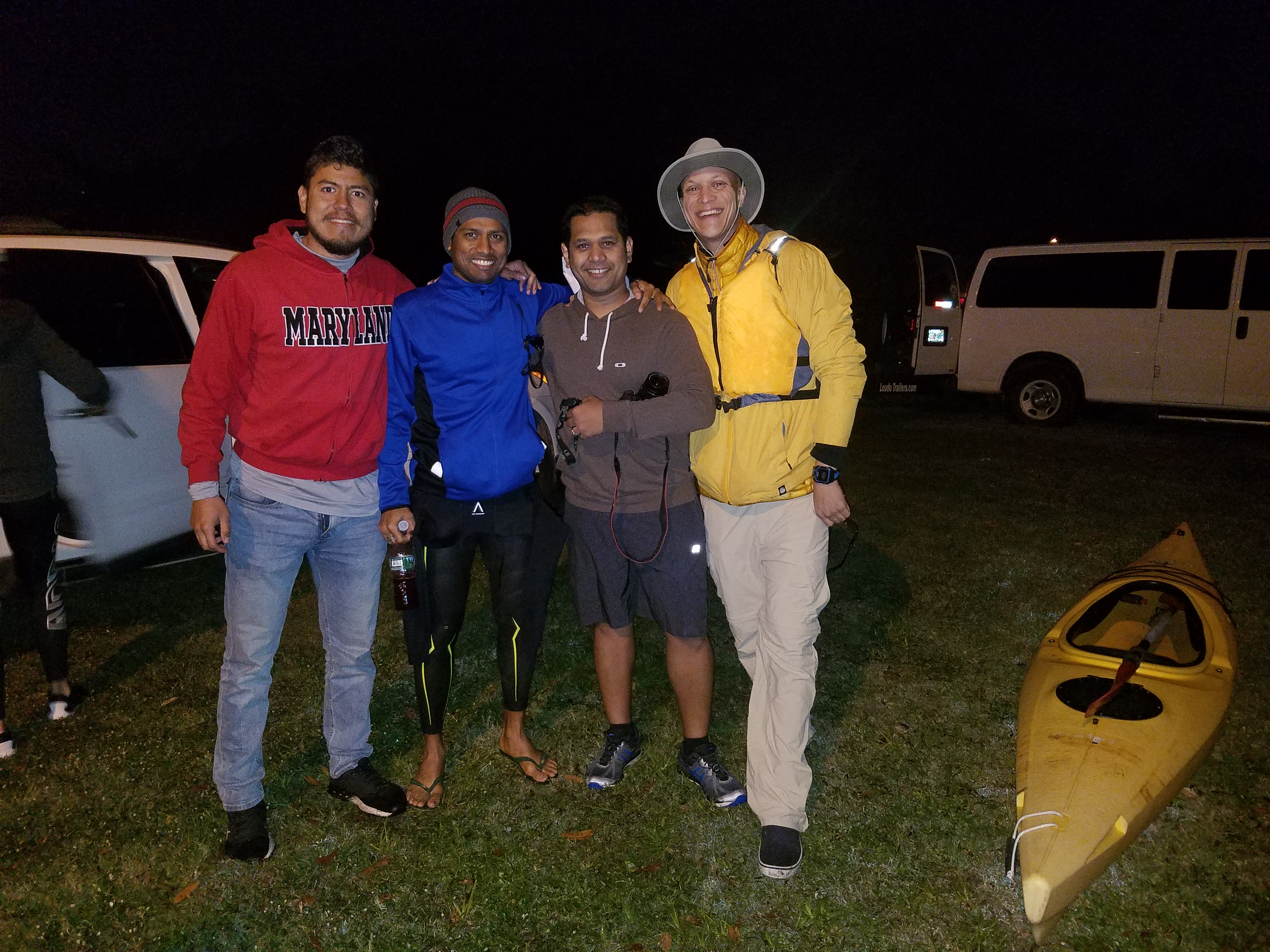 Ultra Team – Marcos Moya (Vitamin 'E') , Manmadh Rebba (UMFL Athlete), Vamsi Krishna (Crew Captain), Jared Huggins (Harbinger)
I suited up, did my stretching and Suryanamaskar, which means, sun salutation to wash the nervousness away and activate my muscles. The other athletes looked like very experienced swimmers, they looked confident, but who knows maybe they were thinking the same thing as I was. I gave a big hug to Curtis, who gave me a ton of positive energy with his embrace!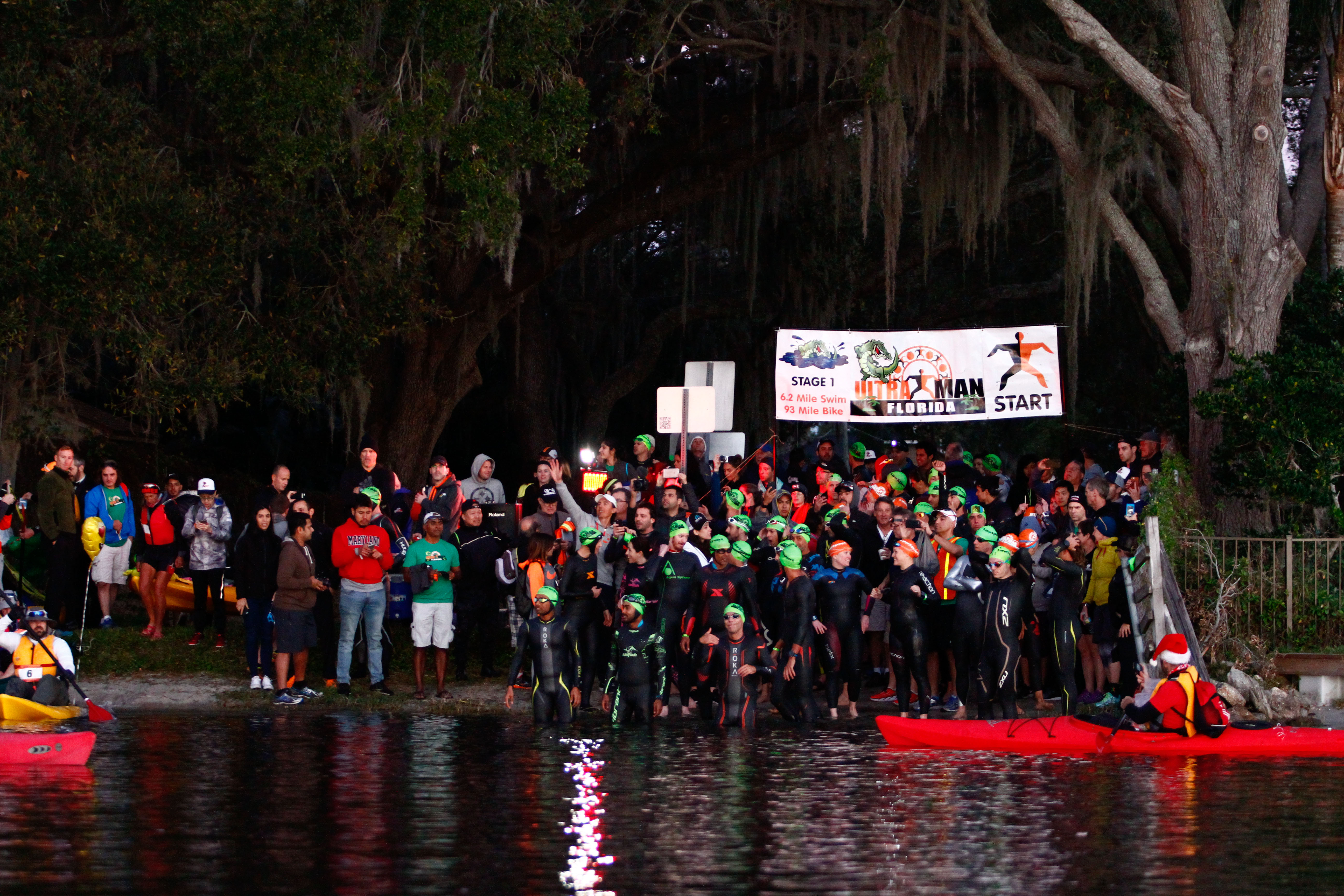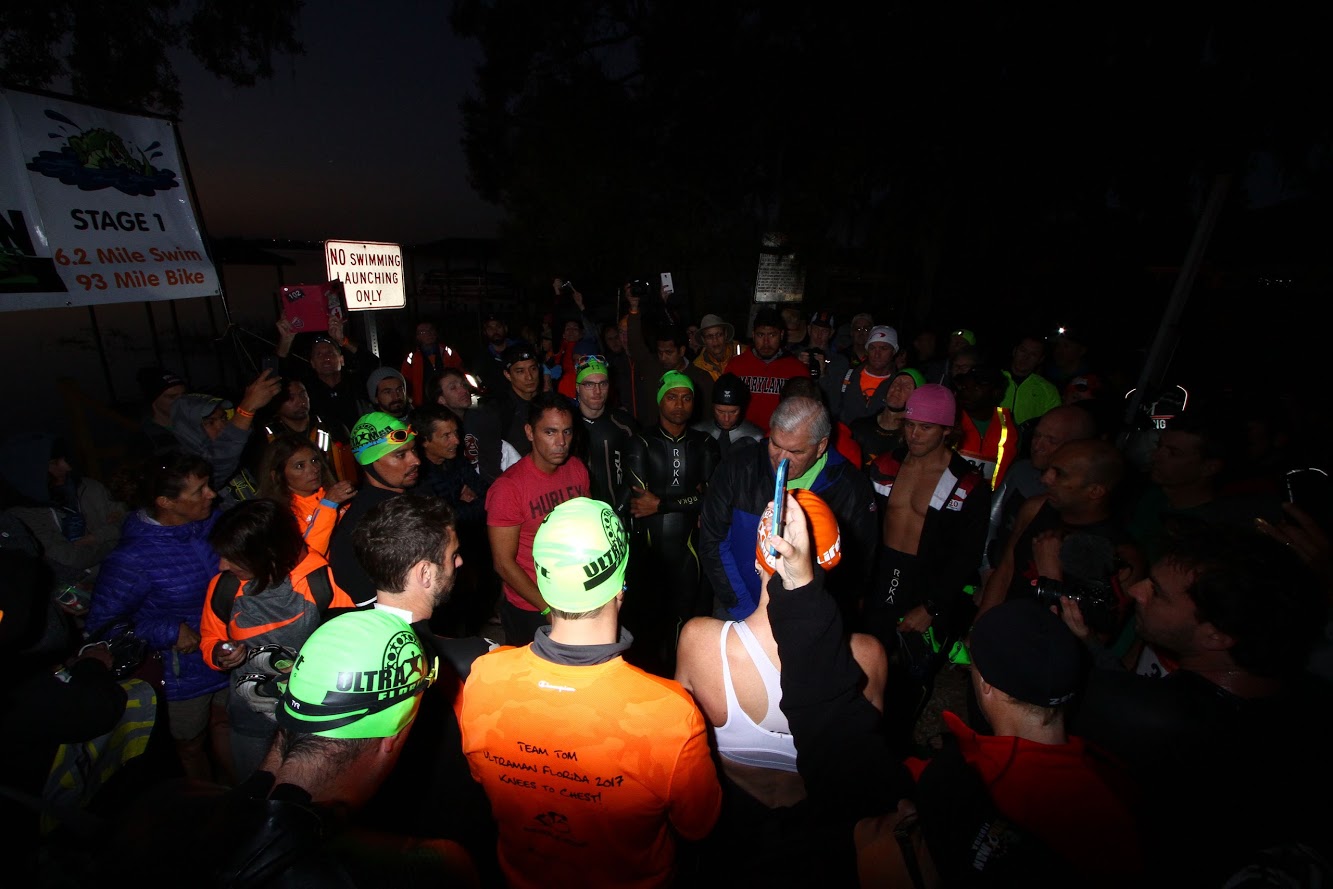 All the athletes gathered in a circle and prayed. With Curtis leading the prayer. The moments right before a race begins,  always get my adrenaline pumping! In that moment, there was no competition only a connection of spirits, a huge wave of positive energy directed at a single goal. I wanted to break through and discover a more powerful part of myself!
I met with Daniel Jensen at the start, he suggested staying calm and going easy but being consistent. I met with the other Indian athletes; everyone was excited along with having some nervous energy.  I gave my final respects to the elements of nature and prayed to keep me protected and strong.
The whistle blew, I took a spot in the middle of the pack, started swimming towards Jared and tried to yell and help him spot me. Jared is a good navigator, I would come to know about that later in the day. At first I was very cautious and tried to make sure nothing went wrong. I didn't want my old fear of drowning to resurface. Sometimes when I'm swimming I still remember that horrible experience in which I nearly drowned in an eight foot deep pool. I was 23 at the time, and after trying to swim while the lifeguard was away, I panicked and ended up being dragged out of the pool by my classmates in my swim class, as I nearly blacked out. Not something I'll ever forget, or something I'd ever want to experience again!
Jared spotted me and paddled up next to me in the kayak, with his usual motivation and cheerful pep talk. Ten minutes into the race, the dark black sky gave way to a beautiful brilliant glowing orange sunrise that slowly began to peak up over the horizon
It was so gorgeous, I yelled over at Jared to capture the moment, but he didn't seem as excited because he hollered back at me, "Dude, please keep swimming!" since some of the other swimmers were pulling away 50m ahead of me. Thirty minutes into the race, he was like "bro, you are looking good and strong, just keep up with this pace". Yes, I felt strong and easy for the first 3 miles. I managed to pass a couple of people.  Jared asked me if I wanted nutrition every 20-30 min and I took my EFS nutrition drink, or waffle as needed. After the third buoy, it started getting tough, Jared warned me about some kind of current and how I need to change my direction, and pointed towards some land marks to aim at during the swim. It was good help, I am not the best at keeping in the right direction during long swims, and he caught my deficiency right then and there (I was zig-zagging a lot).
It felt really long between the 3rd to 4th buoy, and even longer from there on. Based on my time until third buoy, I was confident to finish the swim by 4:00 or maybe 4:15 but the reality ended up being something else entirely. I took it easy, and didn't push hard, since I had a long day ahead and couldn't afford to have any muscle cramps. I went easy focusing on energy management and stroke efficiency with body responsiveness.  I stopped couple of times for a nutrition break .From buoy 4-5, the sun was shining right in my face, which made it bit difficult but I was used to it due to the training and growing up in hot & sunny Southern India.
I think during the last stretch, I was yelling at Jared to come kayak next to me, he said "Dude you are going off the course, come swim next to me". I was a bit tired to take the instructions but moments later I realized, I got to follow the harbinger to reach the destination.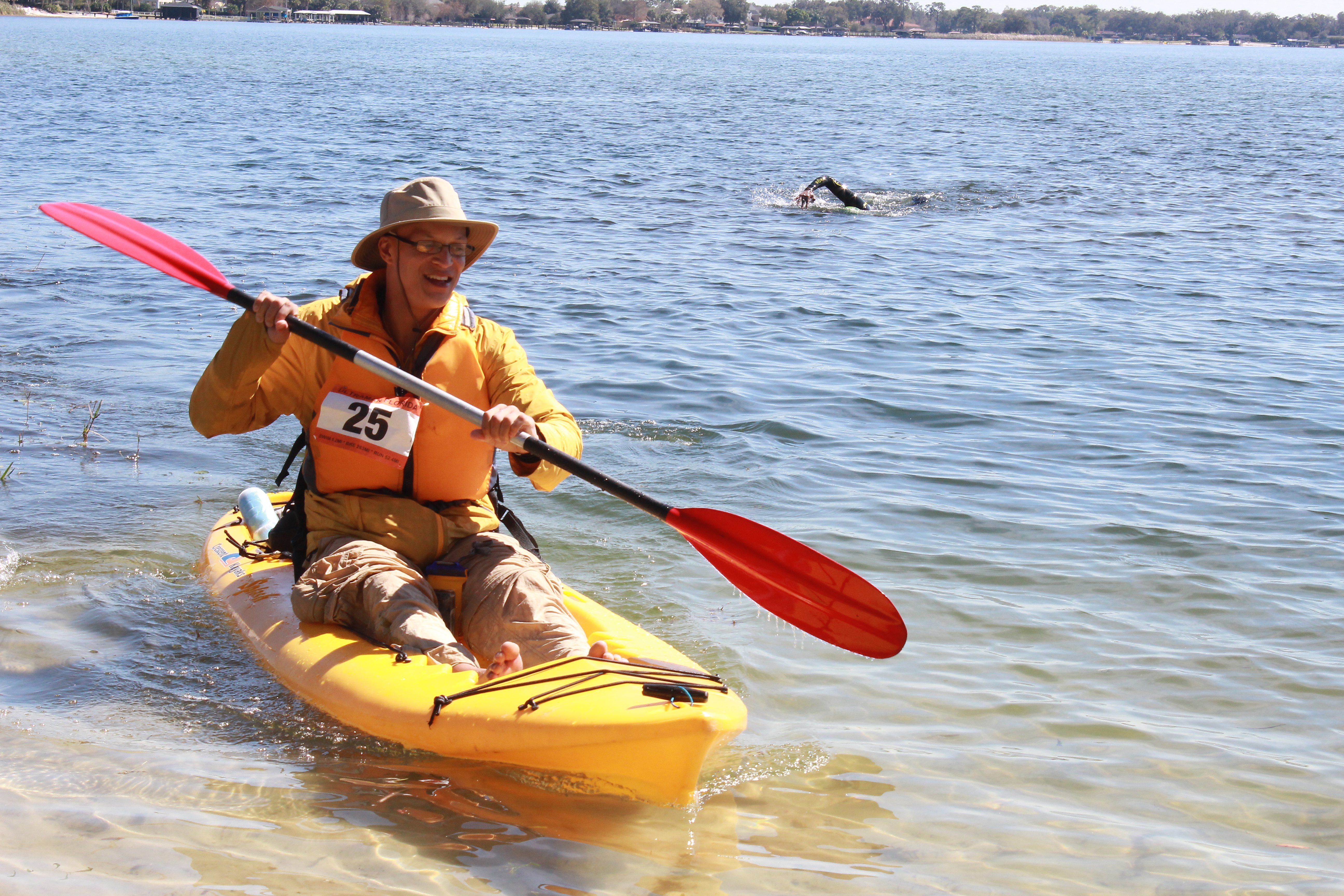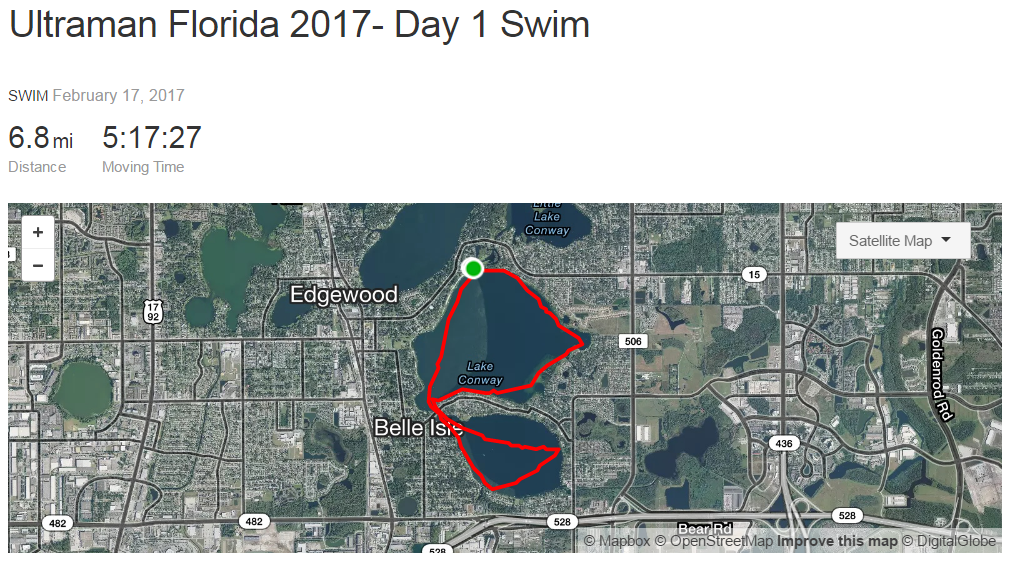 I came out of the swim in 5 hours 16 minutes and heard Steve King's voice and everyone cheering. I was happy to see both Marcos and Vamsi who were waiting to take charge and push me out of the transition as fast and comfortable as they possibly could. Rogelio Rocha also finished few minutes before me; we both were in the tent changing into our bike gear.
I used my anti chafing cream everywhere I could and took some electrolytes and a bite of turkey sandwich which Rogelio's crew member gave to me in the spirit of Ohana. This race was about family, it wasn't about competition. It took me approximately 11 minutes to get out of the transition.
My previous day's practice ride through the bike course helped me reduce the anxiety of riding the route in the first 5 miles, it was easy. I just kept a steady pace, with a high cadence and comfortable aero position. I was very critical to avoid any kind of wrong judgements when I came out of the swim section due to disorientation and shift in my body position, going from swim to bike horizontal, to seated and leaning forward.
Some of the stoplights were annoying; I was also losing time waiting at those lights. I realized I should tap into my Department of Transportation knowledge base, to bike smartly through all these intersections.  At the return loop from mile 11-17, I timed my pace based on the distant traffic light that turned red and counted how long it will take to turn green and then red and then calculated my pace . This was like the closing the gap drill for ½ mile.  It worked. I stopped briefly at mile 15.5 to grab some pickle juice and something to bite and moved quickly. I had my big aero water tank on my aero bars, and wanted it for the first 20-30 miles to hydrate and to get my body in balance.
I guess at around 40-50 miles I had my crew remove the aero water tank. My crew was leapfrogging as I instructed, checking on me every 5 miles and whenever they could, just in case I needed anything. The first day leap frogging was a bit crude, they used to pass me and stop 1/4 mile ahead and that didn't give them enough time to grab all of the required stuff I would need on time. Lesson learned and they begin stopping at least 1 mile ahead. I guess at around 3:30pm, 50-60 miles into the race they got me some turkey sandwich… I couldn't eat all but got some bites… good enough for my system to run. 10 miles down got another few bites of turkey, EFS fluid, water and nuts.
I think every bite of turkey kick started my metabolism because I felt better. My crew was meticulous in calculating, what I was eating, calorie count, sodium count, not to the dot, but to get an overall picture. They gave me an update on how many calories I was deficient and recommended I ate more, I was like "Its ok, I'm tapping into my fat sources".
I was happy to see a bike companion – Rogelio, who was challenging me during my fatigued state. There came a point finally where it was just me, a fenced straight road and the cattle on the other side of the fence. I saw another crew vehicle and it looked familiar, it was Milind Soman's mom in the car with other crew members cheering. I wondered, why they were here, Milind was a national swimmer and would have had at least a couple of hours ahead of me (I later came to know that he had flat tires at the beginning of the race). I think at the last 2-3 miles, I saw a biker in front of me and thought it was Rogelio. I pushed hard to catch up, the road, highway was busy that evening and the cars were zooming past doing at least 60-70 mph next to us.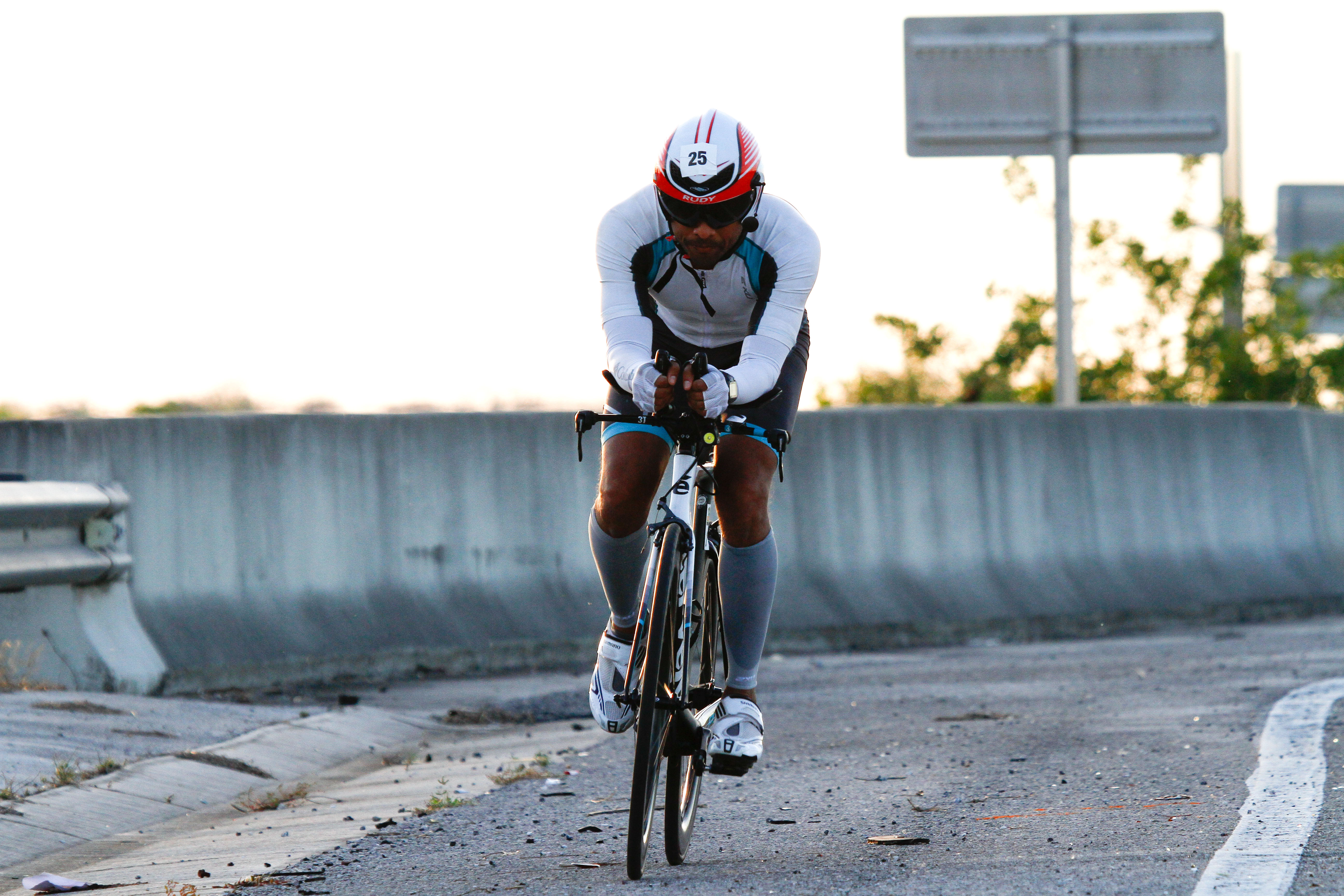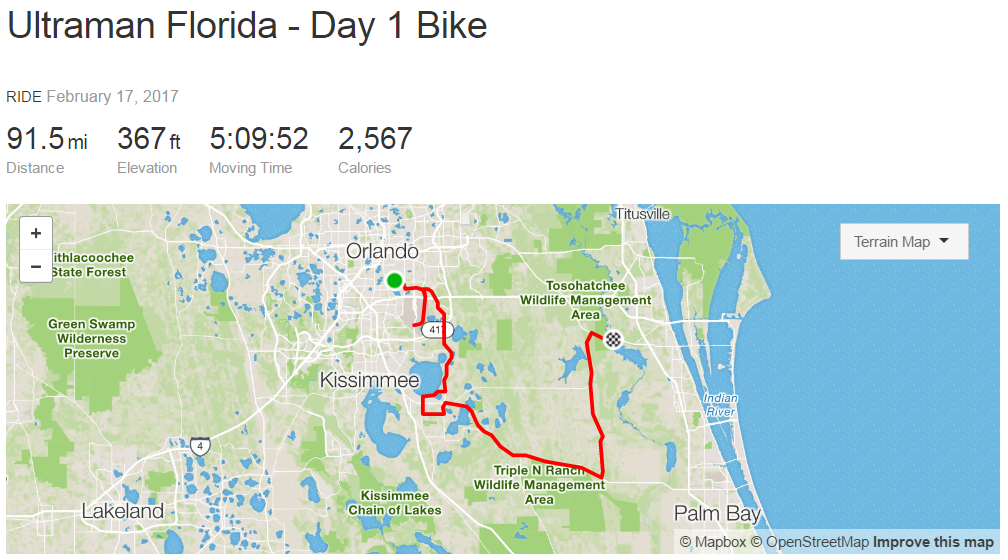 "This is where I should be cautious", I kept telling myself, "Stay to the mid right of the shoulder". I saw the rider up ahead finally, it was Milind. I passed him and got to the finish line in 10 hours 49 minutes. I was very happy to have finished the first day despite the events and hardships of the previous day. I was very happy to see crew members and other athletes finishing. I got a quick massage, which felt amazing; the importance of a good massage is definitely a future blog post that I will be writing!
We all gathered together and headed to a new Airbnb that I booked as a back up plan. At least tonight we'd have a place to stay that was safe and secure, and we can think about the next day afterwards. Jared got me ice and set me up for the ice bath. All my crew members picked up what they needed to do then we arranged everything and had to pick up the other car from the swim start location for the other essentials for Day 2. Vamsi and Marcos drove 50 miles one way and got the car and set up everything I needed. The teamwork of our crew was shaping up nicely. Our confidence started building up again, by just taking one thing at a time. No rush, we just handled one issue at a time. "Keep moving", that is what was going on in my mind. I had my recovery nutrition and was taking food and electrolytes periodic ally until I hit the bed.
Day 2 (Bike – 171 miles)
Saturday, February 18th
I had a decent night's sleep, I got 6 hours which was fabulous. I woke up before my crew, felt sorry for putting my crew to this kind of hardship, they didn't train a single day to crew for 12 hr shifts for three days straight. I am sure it took quite a toll on their bodies while assisting me. I woke up at 4:30, got ready, got my oatmeal with honey, some boiled sweet potatoes, and packed the bike and headed to the bike start. We were on time. Opened up our car and then setup the bike, helmet, air pressure check, nutrition check, tool kit check, warm clothes check, adjusted my handle. It was probably 4 degrees tilted to the side on day one… so I decided to adjust it to make it fit more comfortably.
I was very happy that I took a nice sized dump in the morning. Your dump decides your race day performance. Getting rid of all the unwanted and impure things will make you more pure, focused and strong.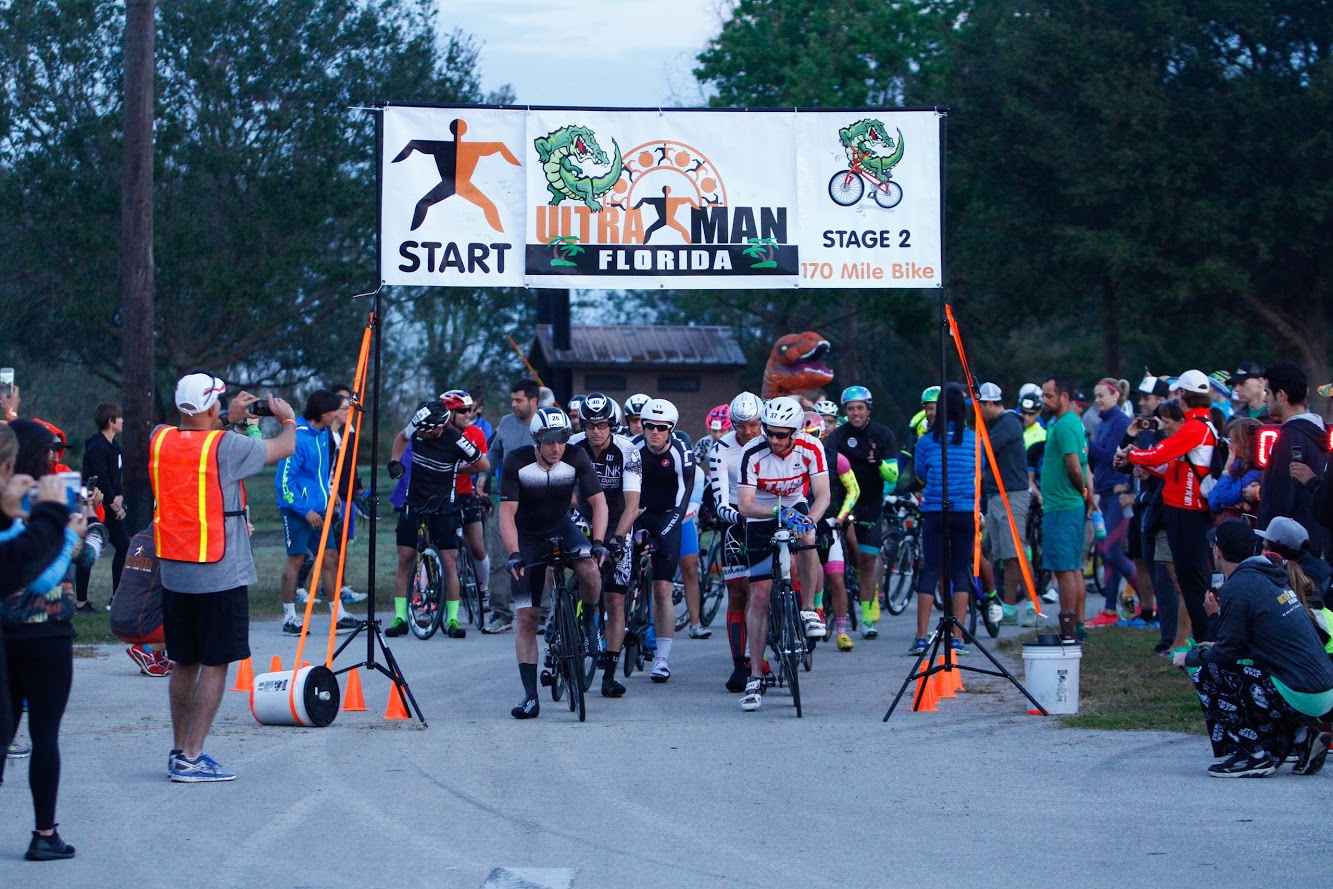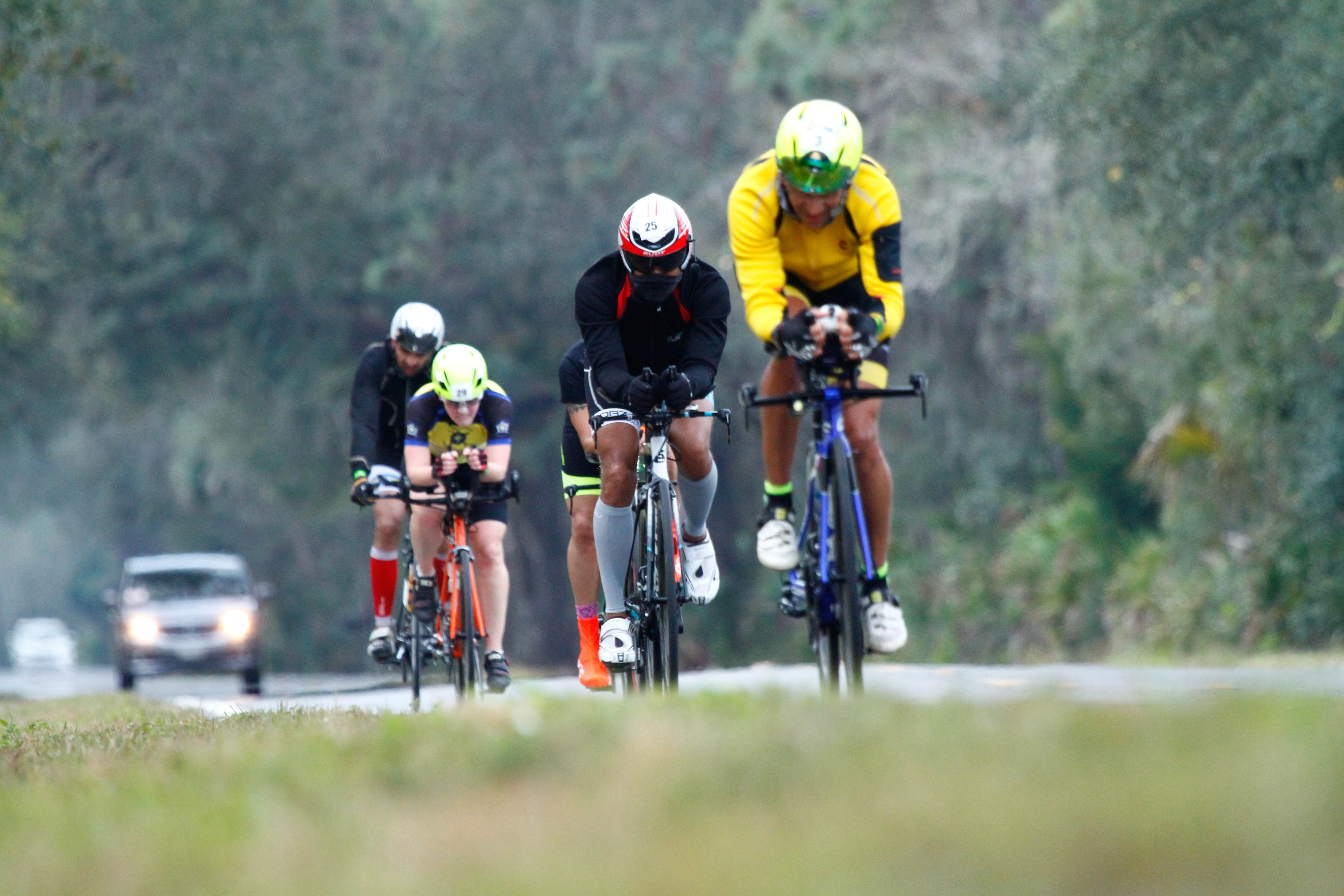 I met with fellow athletes and team India, and was quite stoked to be starting the second day. I was quite determined to go easy, smart and strong to the finish line. The nutrition plan on the course is not what I planned and trained for earlier, it was just going with what I have. Luckily, I had EFS, nuts, watermelon, Probars and my amazing crew. The first 3 miles were draft legal because of group start. I took advantage of it and tagged along with some fast guys, pushed myself to mid pack and stayed there for 3 miles. I was just focusing on my muscle response, cadence, heart rate and aero position; it was my strategy. I was maintaining a good 19 mph pace at the first few segments, started wondering if it was necessary and if my legs could take this all the way till the end. After 15 miles, I dropped to 18+ mph and maintained that speed. Occasionally I got excited with the other bikers passing by and tried to stay ahead but too much excitement is not good. Most of them looked like strong cyclists and were pushing hard. I was just thinking of the next day as well along with my current muscle responses and the fuel requirements. I was constantly checking my heartrate and the cadence; those were the main things to focus on in my race.  At around Mile 35 I stopped at my crews leapfrog station and had a sweet potato, a bite of egg and some nuts (20 -30 sec) and kept moving. I maintained the same pace and my crew was constantly checking and stopping at every 5-10 miles. I yelled at them about protein shake in the next stop, the brown powder I had in a plastic bag, for them to find it and mix it in water, Jared was like 'brown sugar?' ok bud will get that for you, keep moving. At around mile 50, I had another fuel stop , sweet potato bite, egg, couple of sips of protein shake, caffeine (2nd surge) and some water (60 sec). Just kept moving and maintaining my pace and few miles in, saw Kaustubh and passed him at around mile 55. I had some bikers pass me at around 70 miles and they just disappeared, I got my refill of EFS and water at around mile 75. It was time for some more food an hour later, my crew was prepared to get me some real food, and I kept moving.
I thought I missed my route or maybe went a little bit further when I lost a piece of direction paper and it was exactly where I needed to turn, there were no markings at the construction zone and even at the traffic signal of UMFL route! I had to stop and desperately called my crew members as they were out of reach. I stopped for 4-5 minutes trying to get hold of them and then gave it a shot of turning left on to S Round Lake Road. I saw Prithvi at the side of the road taking his break and fueling with his crew members.
That was a relief, 10-15 minutes into the ride, my crew figured out where I was and passed me to set up the next leapfrog station at mile 90. They got me some soup and exchanged my EFS bottle, the soup didn't go down well. Felt like some of the stop signs and signals were eating my time but they were good to relax my legs for a moment. Made a quick pit stop to pee at around the 100 mile mark, I didn't train to pee while pedaling! I need to train better next time. It was definitely a good relief after emptying my bladder after 5 hours of drinking fluids.
Now the challenge began. I had burnt majority of the energy and had to climb the hills from that point on for the next 70 miles. They were not as steep as one of those TorreyPines climbs in San Diego but they were steep enough rolling hills to kick my butt on Day 2 after 100+ miles of riding. I was just focusing on my cadence (which dropped during hills) and heart rate (maintained between 130-140). I am not good when it comes to climbing, I was just using my rookie training skills, that is where most of the cyclists catch me or close the gap.
I saw my sister, nephews and brother in law in another car passing by and cheering! It was nice to see them. The kids were very excited and were ringing the cow bells. They stopped (safe legal spots) and were taking pictures as I passed by. Jared, Vamsi and Marcos were doing all they could to keep me motivated and fueled! They were not going out of my eye sight and were making sure they could see me or I could see them, and stationing  pit stops every 5 miles or whenever possible. At around mile 115, I saw Prithivi and later Radkar and Abhishek cruising in the opposite direction towards the turn around. At around mile 120 – I started having some stomach problems and wasn't feeling right and couldn't digest anything but needed fuel. Now it was time for more natural foods to fight the discomfort. By mile 126, I stopped to get some more water and a watermelon, which started relieving my stomach. I was low on motivation, Jared and Marcos had their motivational speech and quotes pouring whenever they passed me. It was fun to hear them. From here on it was easy food and water, Vamsi yelled at me saying I was around 500-1000 calories deficient in calorie intake during the ride, I was like "Forget it, I have 8-10% body fat, I just need hydration and electrolytes". Now it was all hills, more stress on my muscles and a good chance of muscle cramps on top of my old quad muscle cramp which occasionally resurfaces. My natural remedy was to introduce pickle juice into my fuel consumption, this works like a miracle. Now it was time for the big climb, at around mile 150. All my crew members got out of the car and started running behind me and Marcos next to me with the camera and his commentary. I enjoyed every moment of it, no pain only fun up the hill.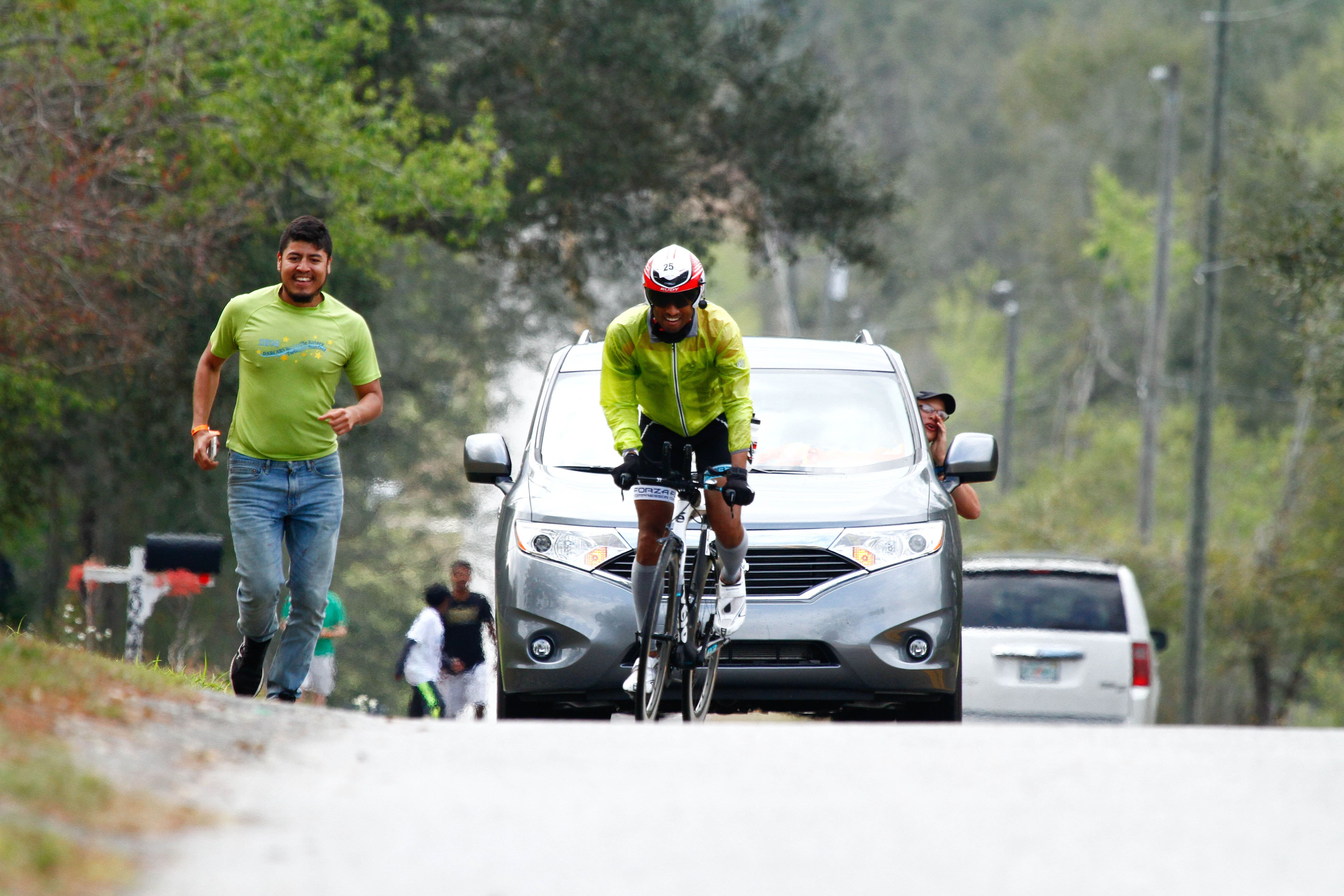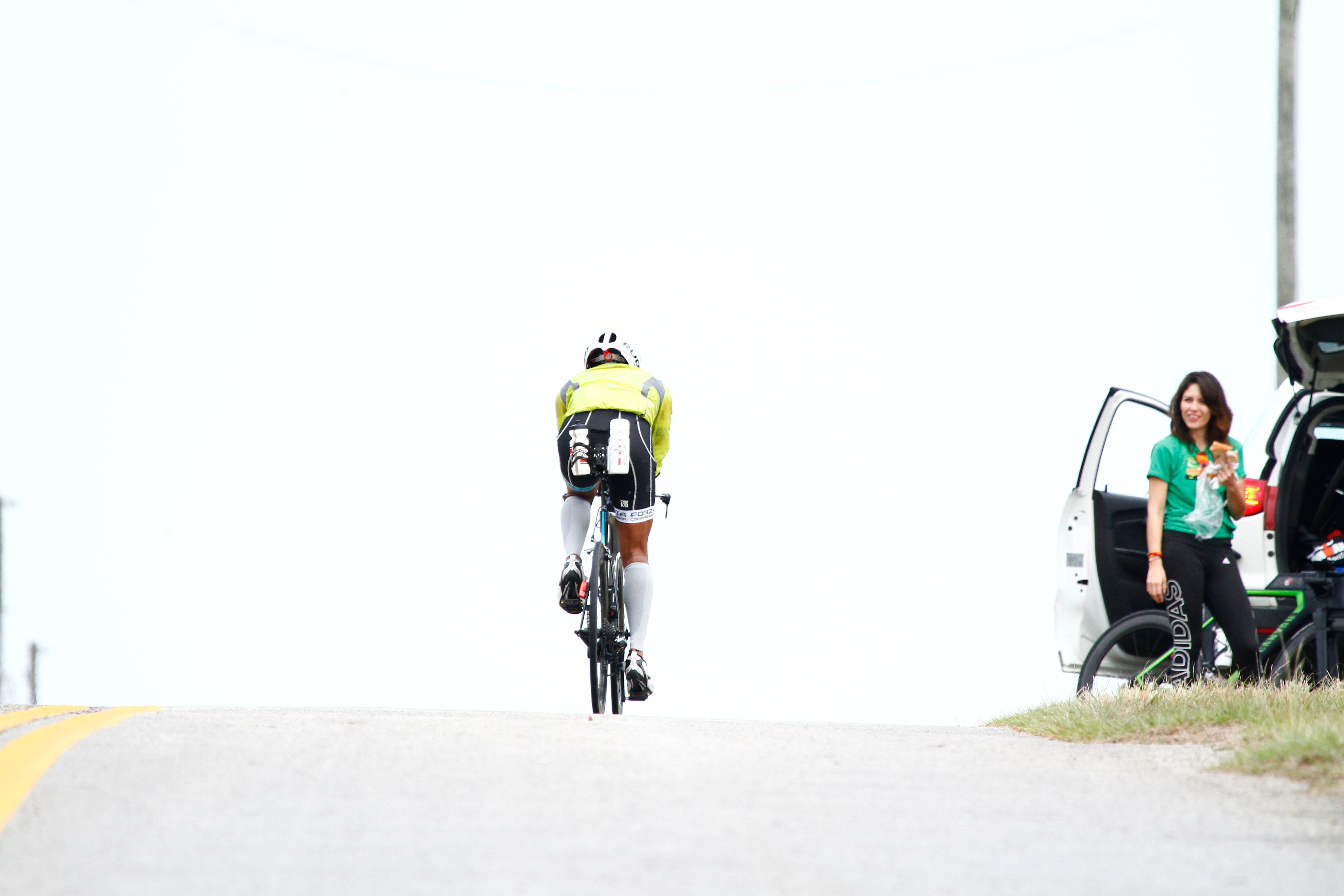 I continued with my pace and cadence, it was approximately 20 miles to go and I was approaching the 10 hour mark, and desperately wanted to break 10 hours. Thankfully I didn't have any mechanical issues or any other major physical challenges. I had that second burst of energy now… and I took it and pushed through all the rolling hills, used all the negative energy that was getting into my mind to pedal and move those wheels faster. I could see many UMFL volunteers at every major corner and guiding me to the finish line!
It felt less stressful to get some directions. The sun started going down and I didn't want to finish in the dark, I just kept it going. It was fun pushing through the limits. I moved to a higher gear and pushed harder towards the end. I spotted another cyclist in front of me getting close to the finish, the thought of getting a good finish came over me, I pushed hard to cross the line before him by a few seconds. It wasn't a major advantage in the race time but it was the thrill and moment that counted for me.
It was great to see my family and crew at the finish line! I got a big hug from Chuck, Curtis and then Parthiv and my little nephews! My crew, immediately gave me some hydration and light food, took my gear, and gave me some warm clothes. We headed to the massage place. Waited for my turn and also waited for other athletes to complete their ride. My sister and family who arrived at around 100th mile of bike ride, had to go get their hotel and set up nutrition for me, so they left to do the shopping and get the hotel. I finished my massage, it wasn't intense, but Karla the masseuse from Day1 knew what I needed after my day 2 ride. I had a great conversation with her regarding massage and how it improves recovery. The only thing that killed the massage a bit were the mosquitos. She focused on the origin and end of the muscle that needed attention, did a few stretches, and took care of some of the core things to get me going. We waited for our last finisher of the day, Milind. I was glad he made it. We took group pictures with Indian flag and other Indian athletes.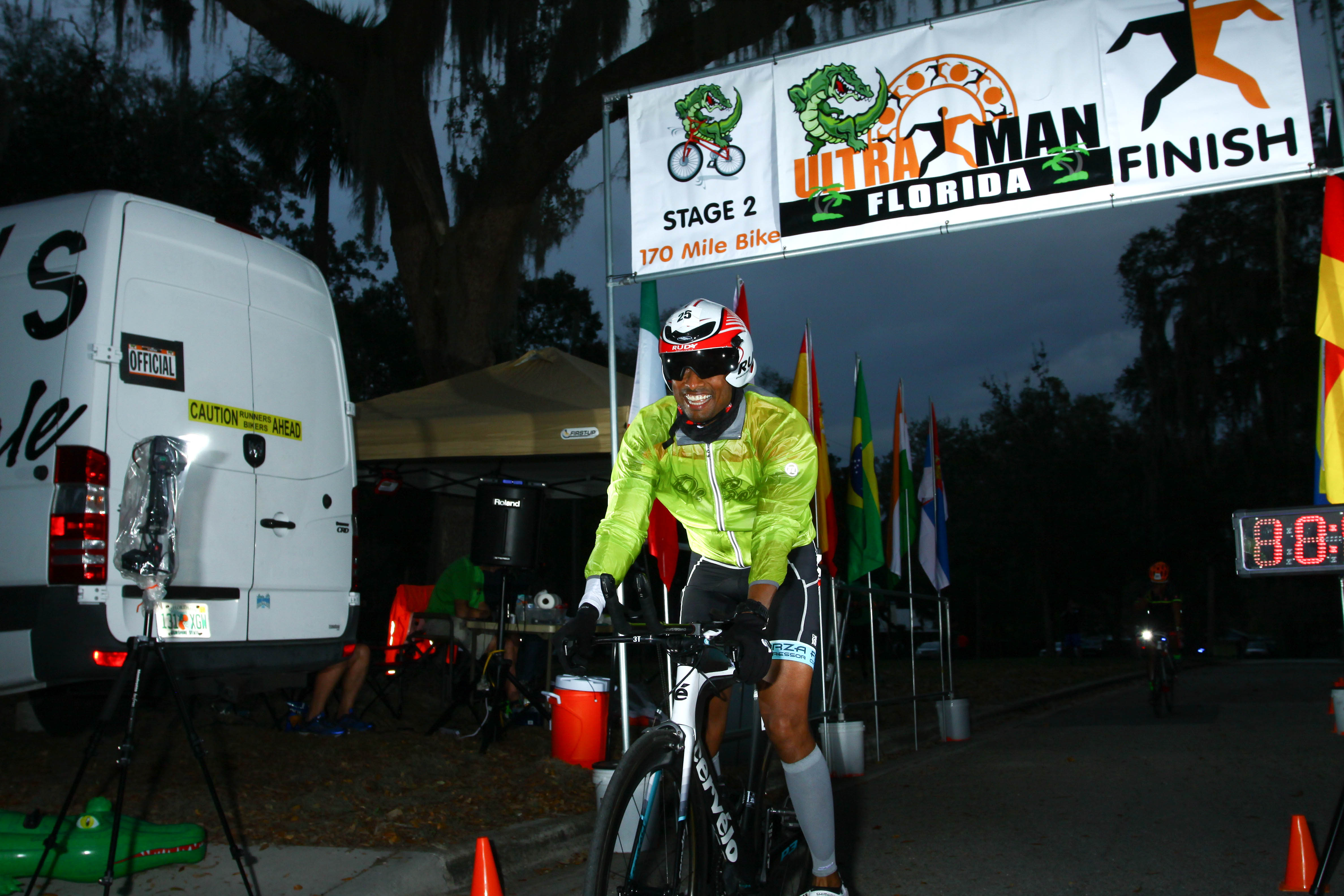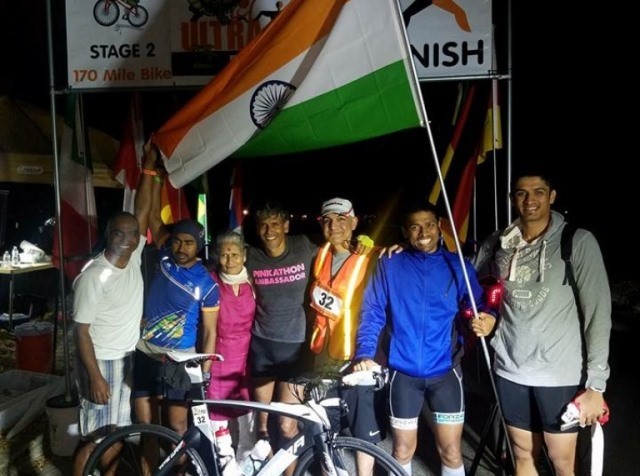 Next all four of us squeezed into our van with all the stuff inside, and headed to the hotel my sister and family were going to stay at. We did not book a place to stay after day 2, we were just banking on my sister's hotel. When we reached it, they were standing in line to check in….the hotel was packed and very busy because of the President Trump's visit to Orlando, I don't know why it had to happen on that specific day. The hotel was over booked and my brother in law was not sure if he could get his room, we had been planning on getting two. It was already close to 8 pm and it was my time to eat for the next day's long run. I started getting concerned. Every minute from now is going to affect my next day's race, first things first, I needed to eat something immediately and carb load accordingly. Also a place to rest, and should get ready for the next day. I don't know how this happened but one of my friends – Josh Wussick (another Architect from San Diego Airport) sent me a text wishing me luck and congratulating me for my good performance in these two days. I remember that he rents a place in Claremont, that's where the run was going to start the very next day. I dialed the number and called him and explained the situation. He said he will call me in few minutes. He already had guests in his house, but his bed room was not occupied. He made sure we got the keys at whatever time we get to his place. His mom waited for us until 10 pm to hand over the keys. They just saved our night and the race the next day! I got my food from whole foods on my way and ate. Meanwhile, Vamsi had to go and get his car from the Day 2 bike start location (fish camp). All my running gear was in his car, it was a circus show!
I went to Josh's house took a shower and tried to relax while Vamsi was out getting my running gear. We had a quick meeting about my goals and my nutritional requirement for the next day. Jared helped me put some ice packs on me for my recovery for the next day. I slowly retired to bed… while my crew took care of all the essentials needed for my next day's run.
Day 3 (Run 52.4 miles)
Sunday, February 19th
I had a very sparse sleep, around 3 hours. I got used to sleeping very few hours. My body felt a bit tired but I was excited to be done with the last day. It's all about living in the moment. I looked for my oatmeal packets, and had some bananas. I Got into my running gear, layered up so that I didn't feel cold for the run, had a poncho and a rain jacket as well, my back pack with water / EFS and some food for the road. I was being prepared for at least 10 miles without any support. We spent all the time travelling to the race location the previous night, so it was an easy 10 min drive to the 3rd day meet at the Gym. I got my readings taken by the sleep research crew and then the best part, the bathroom line.
I just waited for my second round of nature calling and that was the best feeling in the world. I was very relieved and my confidence was boosted after that. I remember suffering through the Mt Whitney hike, it was a scary thought of packing your poop and hiking so, I didn't take a dump for two days and I ended up suffering in the last 2000' reaching the summit. Clean bowels equals great performance. Got out, got my beetelite drink just 30 min before the race start. All the athletes gathered in a circle for the prayer and union of energies.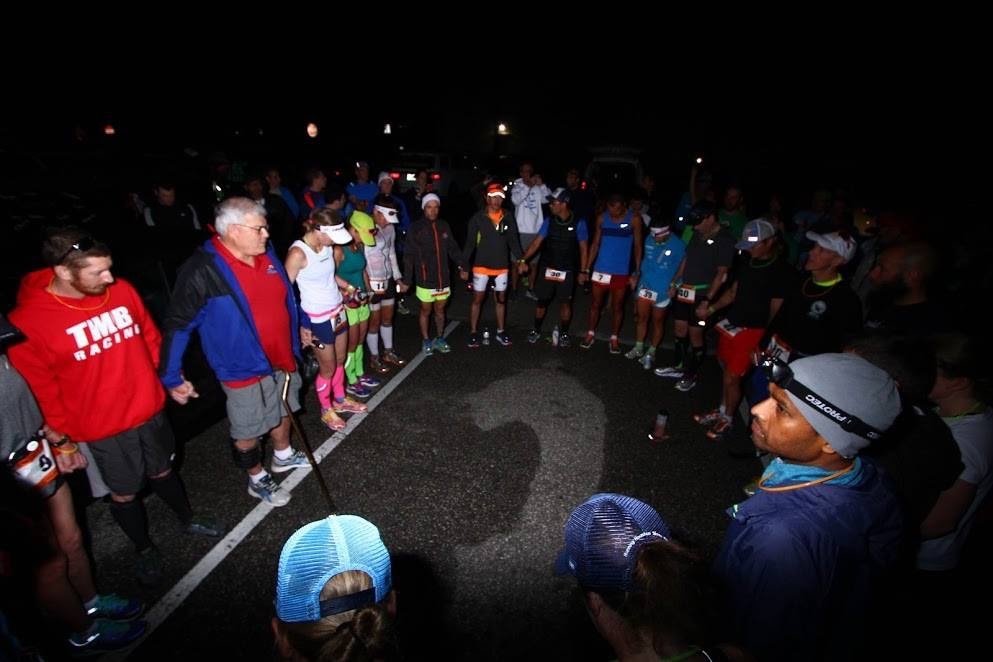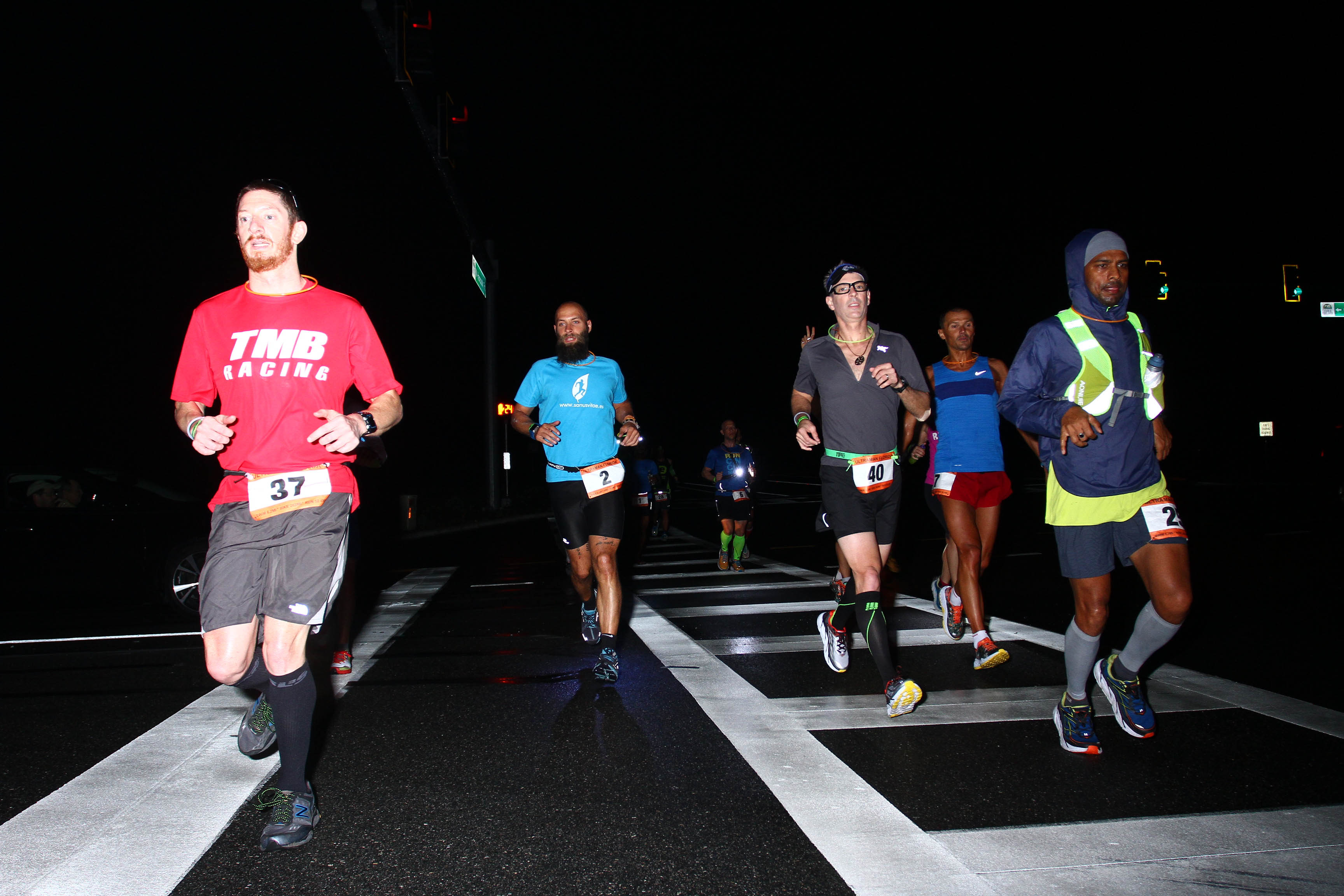 The run start was bit over half a mile walk from where we all gathered. Met with some of the UMFL buddies and also some of my Indian Athletes – Kaustubh, Prithvi, Milind and Abhishek…. We got a group picture before the race start. It was nice to see an elderly person from India (Milind's Mom). We usually take the blessings from the elders and hit the path to success. The race started at 6 am…. all of us started with great energy. No clue how it is going to end but focusing on this moment and wondering about the later situations. I started sweating in the first 1 mile more than I should, I had layers of clothes and rain protection, it was a bit chilly to take off. Bojan passed by me and was like, you will get hot with those. We had to stop and cross some traffic lights and I saw Tim Poydenis, a buddy from Los Angeles. We had planned several times to do training together and could never make the dates work though. This is the first time we got together on the course; he had a good 9 min pace – easy and strong. We had a good conversation for about 2 miles. We continued running and at the very first climb, I started walking, part of my strategy; which was to walk the hills however small they were. I had a long day of running ahead of me, and didn't want to spend all of my money at the first candy shop. I took this opportunity and took off my poncho and other warm gear and shoved it in my backpack. I met with Kaustubh and we connected in the run. He had the same strategy of an easy pace in the beginning and walking the hills. It was great running and talking about various things with my Desi athlete.  About 5 miles into the race, my crew showed up and had a big box full of goodies and snacks, but it was too early for that. I just continued running. I tossed my warm clothes back to them, which meant less weight on my shoulders. I saw many athletes at different paces, I was quite tempted to outrun them, but what was the point? I kept calm and stayed in the moment. I was enjoying the beautiful morning, the company and the attentions of my crew members.
Both Kustubh's crew and my crew were phenomenal in being there and providing every need and motivation. Tom was running and had redbull for Kaustubh for B12. I was like, yeah I need some B12, shouted to Marcos, "Vitamin B!", he managed to search through our car and got my favorite B12 gummies, vitamin supplements. Popped it in my mouth and kept moving. I could feel different muscle groups working and only thing I had in my mind was "What am I doing? Why am I doing this? And what is it that I should do?"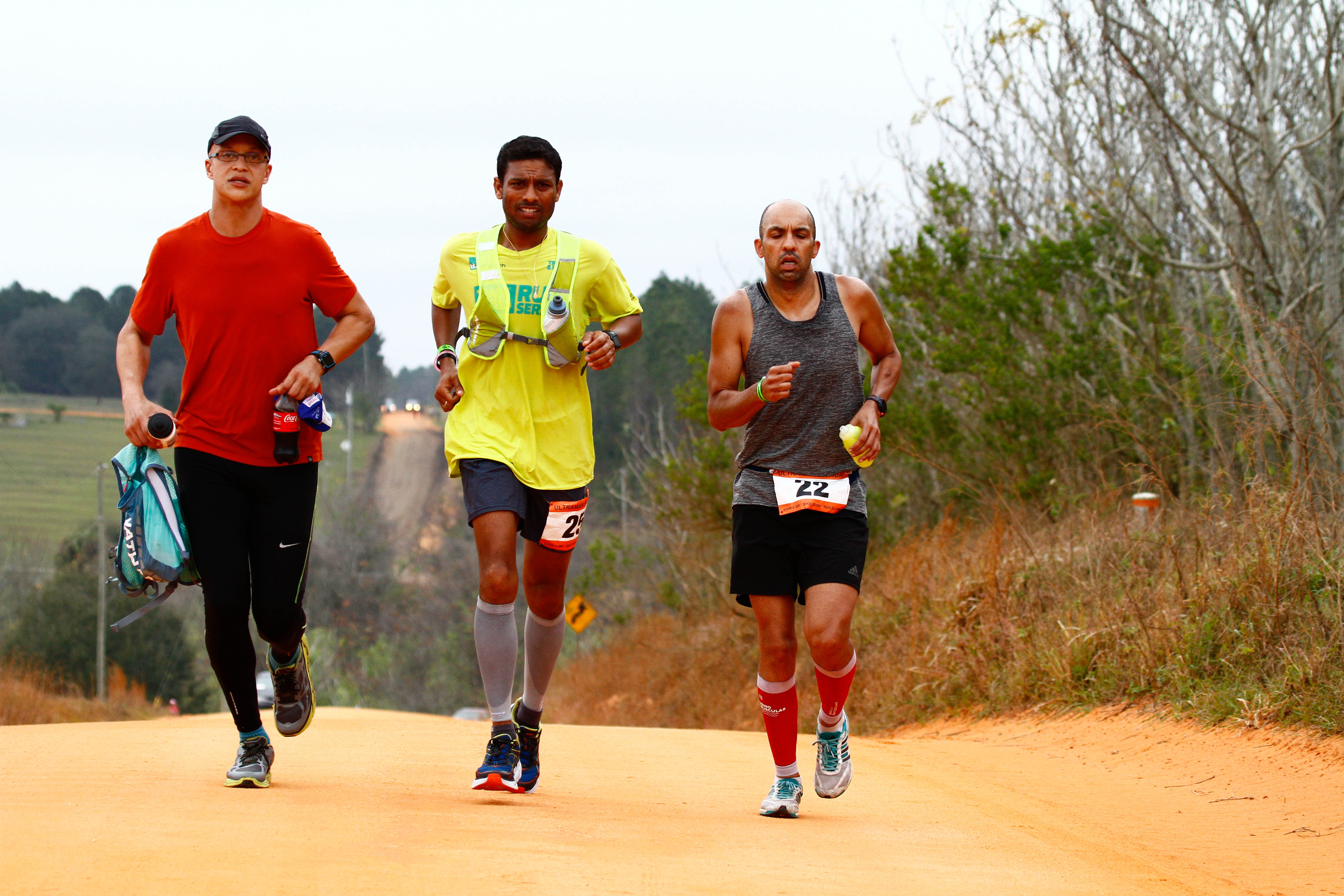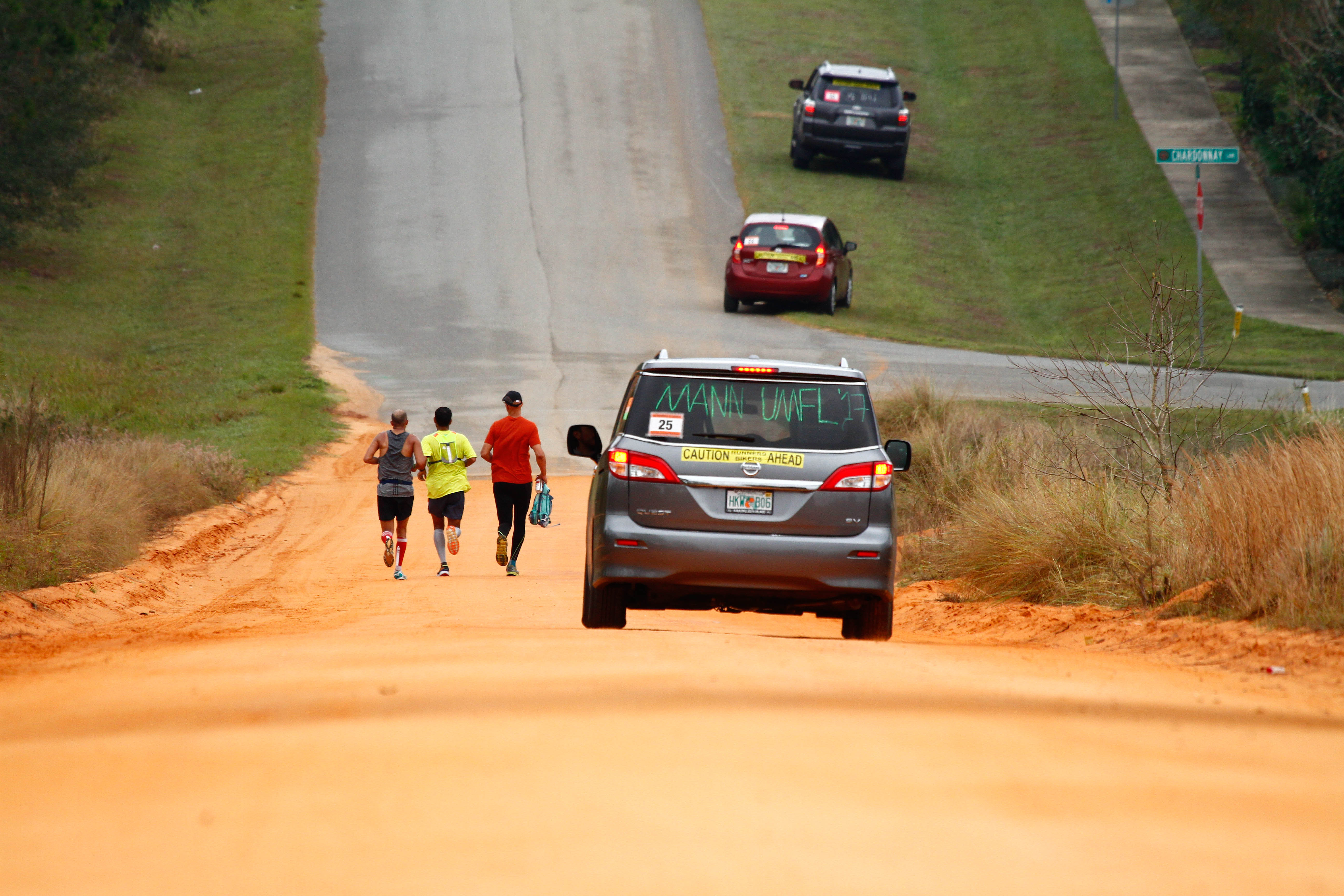 I was running a double marathon and I was not focusing on my core and muscles and transferring the load to my joints. Why? I was losing focus on my technique, and not activating the right muscles to take charge and work my muscle groups in unison. I started to adjust the technique, adjust my posture, adjust my stride, check my shoulder movement, and cross check with your shadow during the run, listen to your foot steps.
For me motivation is all about focusing on the right thing and living in this particular moment. "It has always been one breathe at a time". I passed Abhishek some time after the half marathon. I never saw Milind from the beginning. I knew Prithvi was ahead of us along with many other athletes. We kept with our strategy. At around mile 17, Jared jumped in to pace me, five minutes in he had his motivational talk…. "You are not here to run at this pace…you can do better than this.. you look great.. you look strong" when I look back.. he was actually telling me facts not motivating me.
At that moment, I realized, I could increase my speed a bit without changing much of my heart rate… my plan was to maintain my heart rate between 130 – 140 bpm.  I was able to achieve a bit faster pace without much of the change in heart rate. At that moment, I caught up to Jared's pace and 10 min later I realized I had left Kaustubh behind. He was running at his planned pace and was looking good at that time. Later at the finish line I learnt about his suffering and hardship during the run and was very happy to see him at the finish line.  A few miles in, I saw my sister Deepa and Vamsi pulled over on the side of the road cheering for me and ready to help my crew. They looked happy to see me doing well. All the markings and directions were perfect, that was one less thing to worry about.
Vamsi and Marcos, started pacing for couple of minutes, I instructed them, "I don't need two pacers… save your energy. Distribute the energy, and distribute the help… we have a long day ahead of us". I was getting everything I needed from my crew, water, EFS, watermelon, oranges, pretzel, anything you can name, I was getting it. Mostly importantly was, how they kept me hydrated and fueled. I was enjoying my water melon more than any other food. I still remember Bojan's logic…. one pound of body fat is around 4000 calories… I had 8% body fat, so that's around 9lbs of body fat to spare and I just needed hydration and electrolytes for sure. It was just a mind game for me.
I kept running at my pace, it started warming up and I hydrated more… and didn't stop much, only at the traffic signals. I wished those signals would have been all green for me, I would have saved at least 5-10 minutes in my total time to get under sub 10 hours. I was just thinking of my race performance and times when I got closer to 26 mile mark. I came into the race with a wild card entry and 3 months to train and my one goal was to finish the race strong and not to be last one to finish. I could see that happening if I kept up with my pace, but things can change any moment. Also some greed creeped in to go faster, and try to beat as many people as I could. I had only one Indian buddy ahead of me, Prithvi. Both Kaustubh and Prithvi did exceptionally good in day 1 and day 2; I had to do good on Day 3 to stay closer to their overall time. I was too far behind Tim Poydenis and Bojan Marik to even think about comparable finish times as them. It's good to have some competitive spirit and calculations during the race, some bench marks and goals to achieve, as a source of motivation.
I saw Prithvi at the 26.2 mile mark (half way) – his plan was to take a break half way and then start a fresh second marathon. I continued my pace, it was time to cover all the lost time in poor amateur swimming and non-power based biking. I was half way into the race (marathon in 4:40), 20-30 min slower than planned. Can I do a negative split was the question, but now, getting the right pace at that moment was what mattered.
I got my nutrition and watermelon from the crew, they were well spaced and occasionally hopping in to pace me.  The real challenge was ahead running in clay, I guess we got there at around the 34 mile mark. I was comfortable with my shoes and it was bit hot, Marcos paced me into the clay tail. My crew van followed and was leap frogging as I progressed. My brother in law and my nephews were ahead of me cheering me as I passed by and occasionally jumping out and running with me! It was a great moment witnessing their energy and enthusiasm.
I felt like I was passing the good energy on to the next generation! And I believe that's what matters in life, it's not how much money you earn and give, it's that pure energy that you earn, protect and pass along! Most of that phase, I was in my own zone and occasionally too distracted to notice the surroundings and people around me.
I was mostly focused on my technique, posture, response to that moment. The heat and hills were killing me. Jared, Marcos and Vamsi were taking turns giving me hydration and cooling me down with the sponges. Vamsi walked some of the uphills and pushed me to keep up with his pace. Marcos had so much energy and enthusiasm, it was absolutely contagious! Those are the nutrients that every athlete needs on the course, you can't buy Vitamin E(Enthusiasm) in the store. It was quite beautiful and it reminded me of the village where my father grew up, that village was hot, with red soil, and no trace of water around.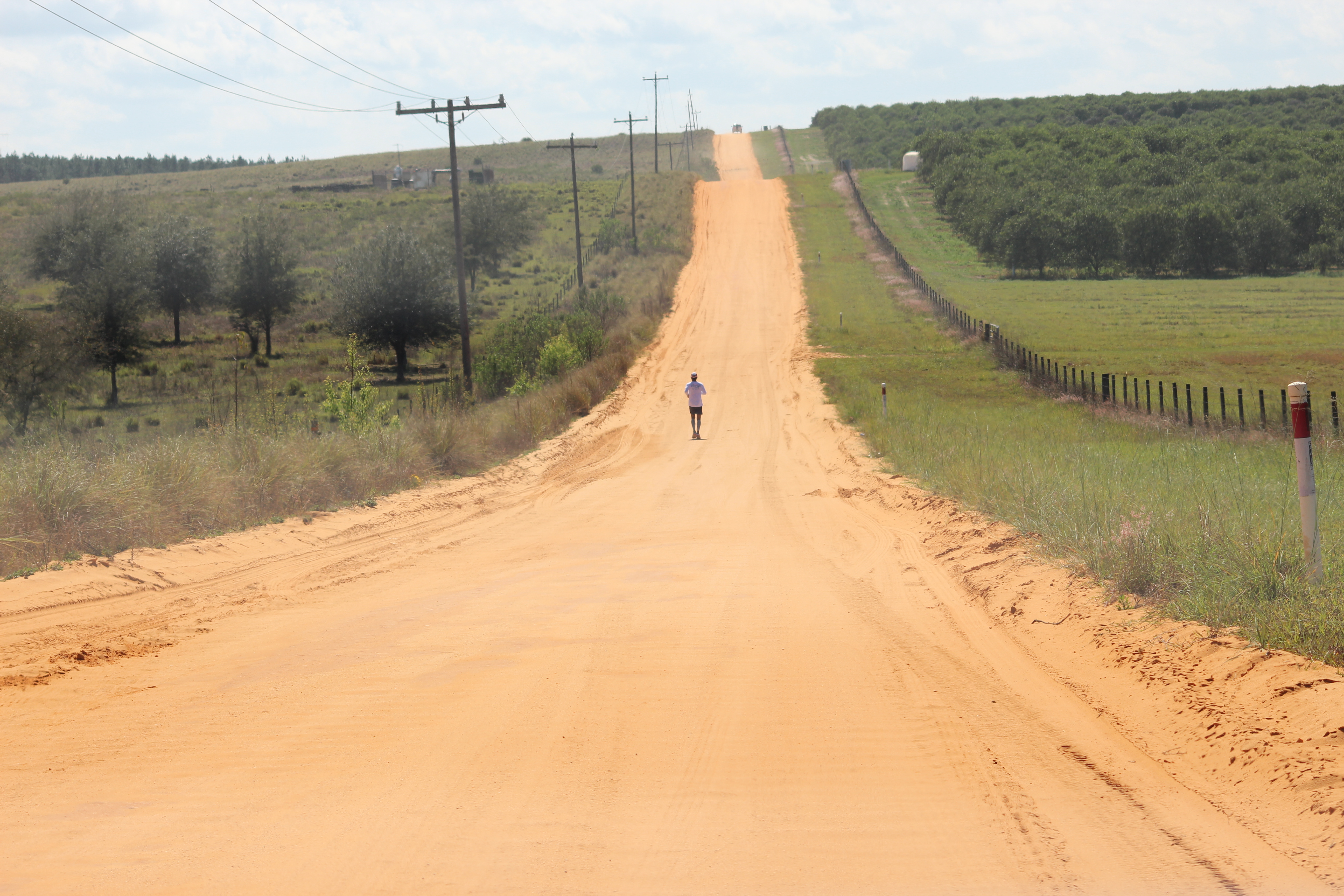 I thought back to when I was 6 years old and when I went to the village for my grandmother's funeral and walked through those dirt roads to get from one place to another. Running on this long hot stretch of clay road, I could feel my feet getting uncomfortable and some blisters on my feet and I couldn't wait until this clay road came to an end so that I could change my shoes to a second pair I had that were a half size bigger and fresh.
I finally got relief when I saw a paved road at around mile 39. I quickly changed into a fresh pair of shoes, my crew had everything ready: shoes, socks, Vaseline, food. They helped me change the shoes and apply Vaseline. Jared was counting time, guess it took me bit over 2 minutes for this transition. Boom back to the course, I felt way better and started feeling more energetic. I got my second wind and increased my pace, and began to focus on technique again.  Thirteen miles left, another half marathon to go and I was feeling strong, and had some more pickle juice. I think pickle juice helped me a ton in the race to avoid cramps or any issues. It always felt good with water melon, pickle juice and water. I went into my zone for these last 10 miles, nothing mattered at that moment but that moment. Jared and Marcos took turns and paced me every other mile. Jared runs up to me and tells me about Marcos shoulder injury and how he is running for you with the pain, now I can't complain about my pain when I see what these two were doing, Jared was going to get a knee surgery due to his messed up knee but he is still running with me at my pace and bit faster. The traffic lights were holding me back, making me loose my momentum. Vamsi, constantly updated me with my pace and position in comparison with other athletes.  Jared was like "Dude there are bunch of athletes within a mile ahead of you just go get them.  As much as I was excited and determined to get them, I was focused on the current moment and my muscle responses.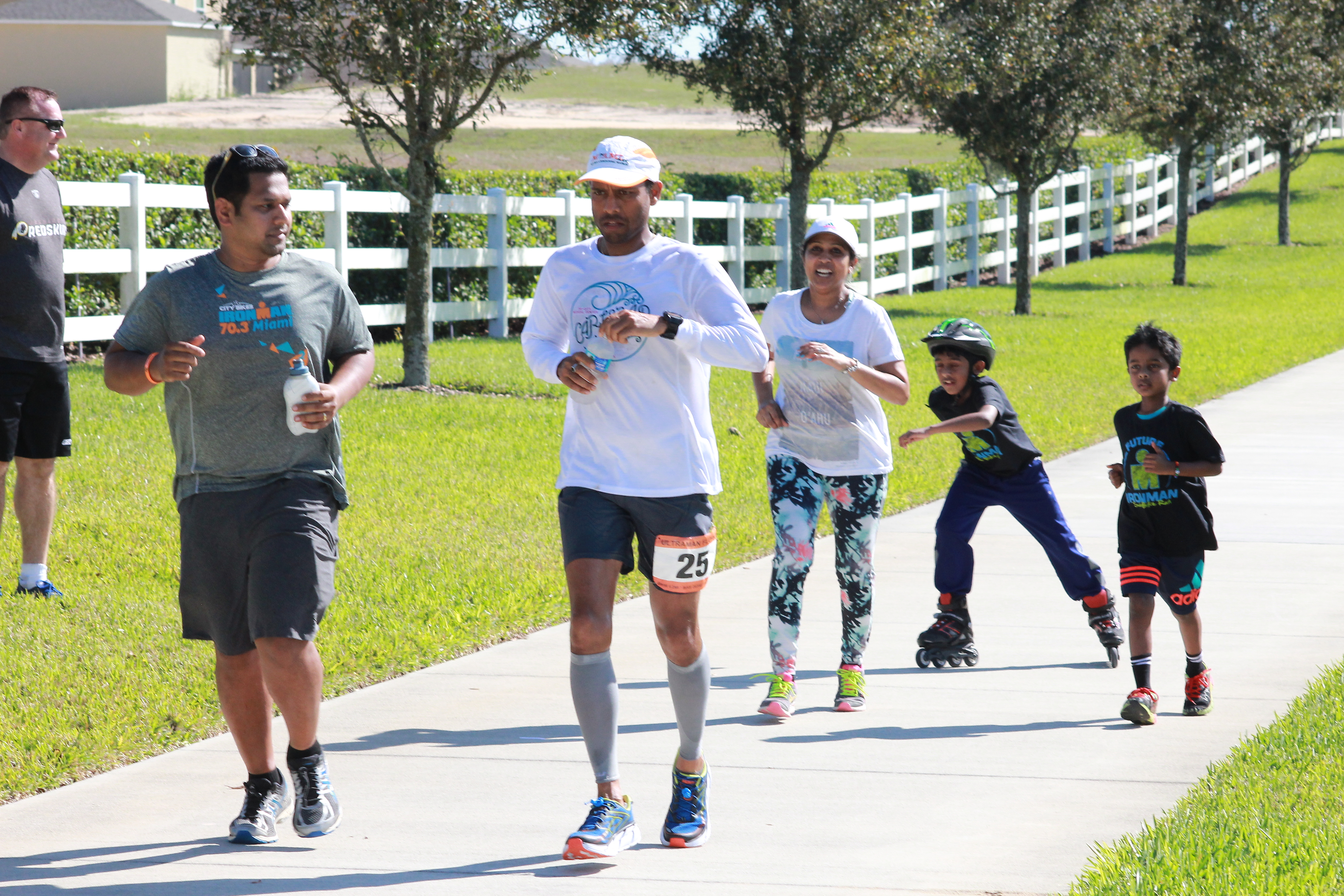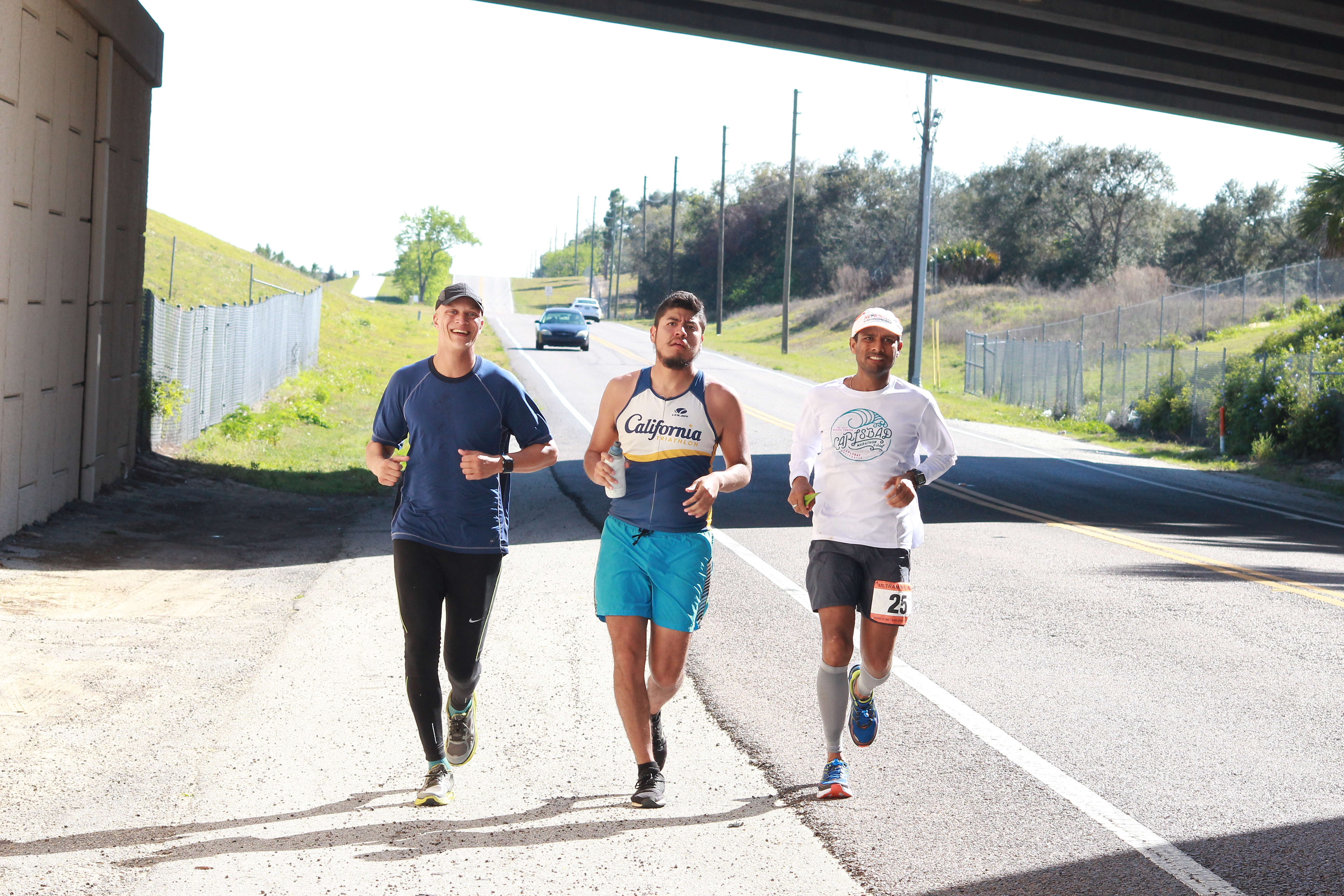 After mile 50, I noticed two athletes ahead in my vicinity, time to get them next. I increased my pace, and was watching my heartrate, which went up to 150. I was still ok for the last two miles. I wanted another good race finish, a strong finish, despite all the challenges in life, pre race and during the course itself.
I managed to pass one athlete with only two miles to go, the other one looked strong. With less than a mile to go, I didn't want to pass him too early, but at the bridge near the park at the finish line I passed him. I was bit dehydrated and my heart rate started shooting up. Passing him triggered the racing instinct in the other athlete and I couldn't keep up with him sprinting for the last half mile, I just composed myself and said to myself, "I am here close to the finish line, I am supposed to enjoy this moment, which I am going to cherish for the rest of my life, no panting only breathing, calm down"My sister – Deepa, brother in law – Naveen, my nephews Shrihan and Thakshil, Vamsi, Jared and Marcos, all of them joined me running the last stretch with the Indian flag behind me. That was a beautiful moment that I will always cherish. I was not emotional at all, I know a lot of people get emotional and cry, but I got into a moment of feeling nothing, my mind was just blank. I think I accomplished 'becoming nothing' by crossing that finish line.
What did I want to become? We all have something we want to transform into, to become, but no one wants to 'become nothing'. Crossing the finish line, I feel as though I experienced that and I am very glad to be that no one. It was a spiritual moment, a foundation for a greater self. I crossed the finish line, and got hugs along with a family picture. I felt so blessed to cross the finish line, to become an Ultraman.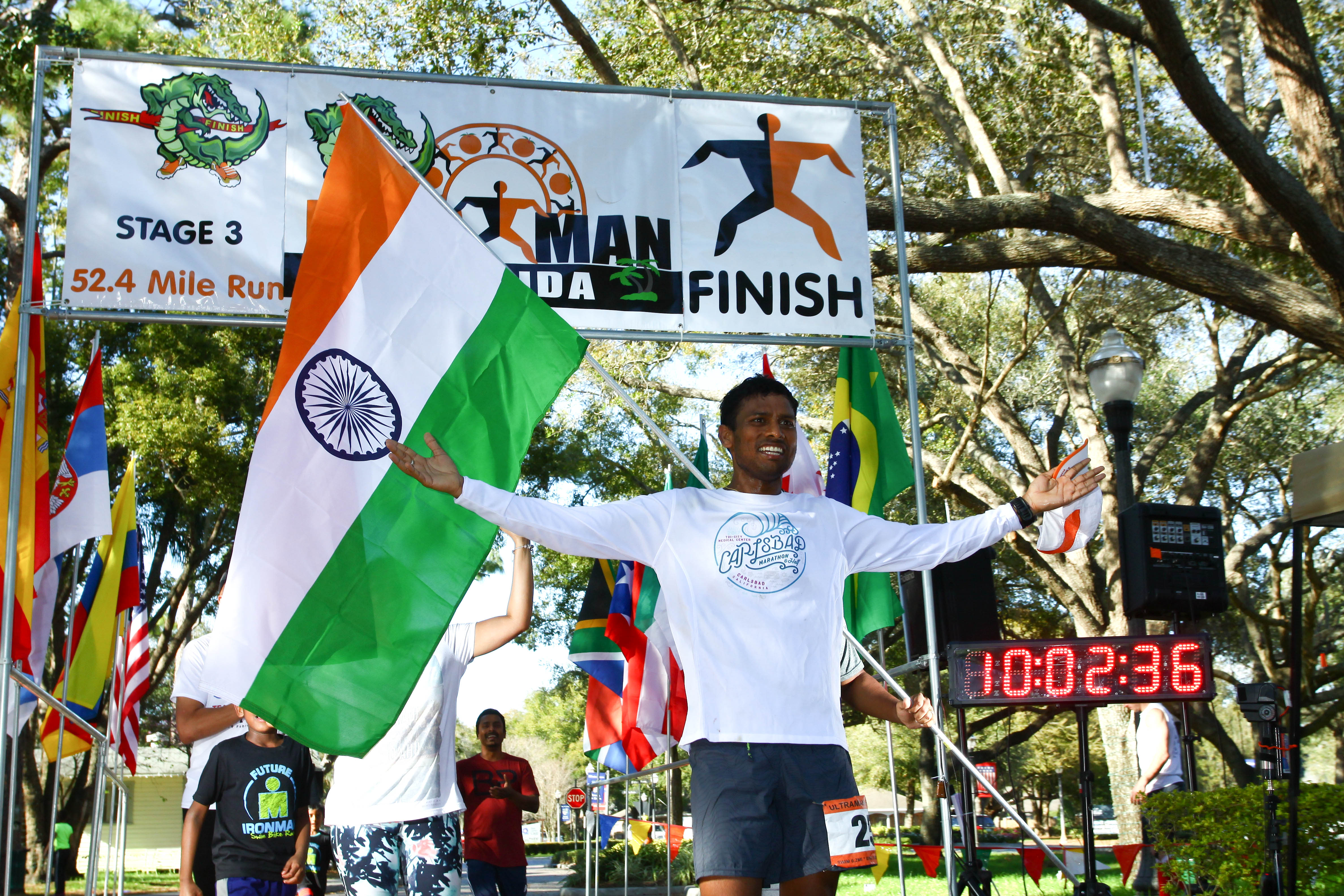 ALOHA                OHANA                 KOKUA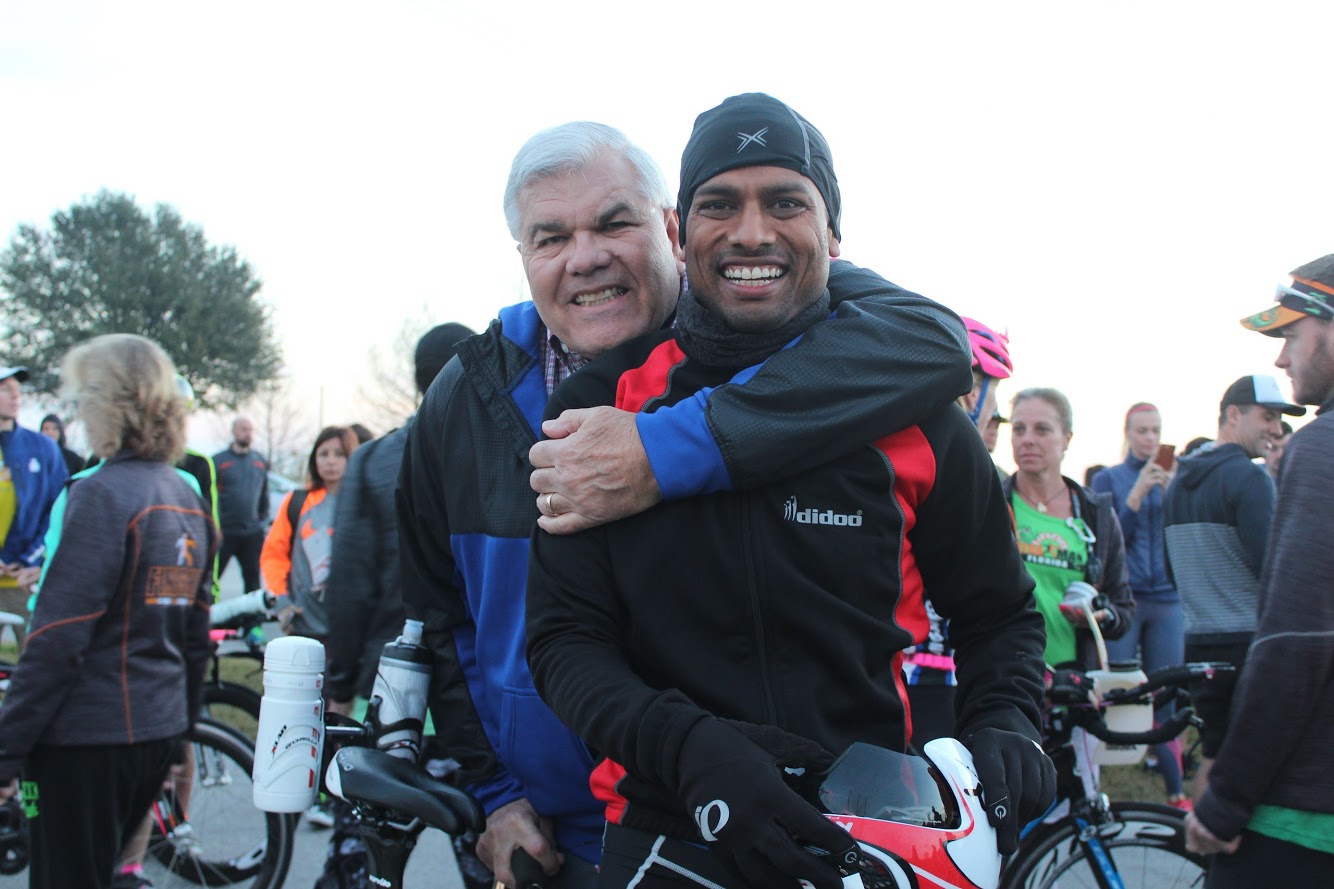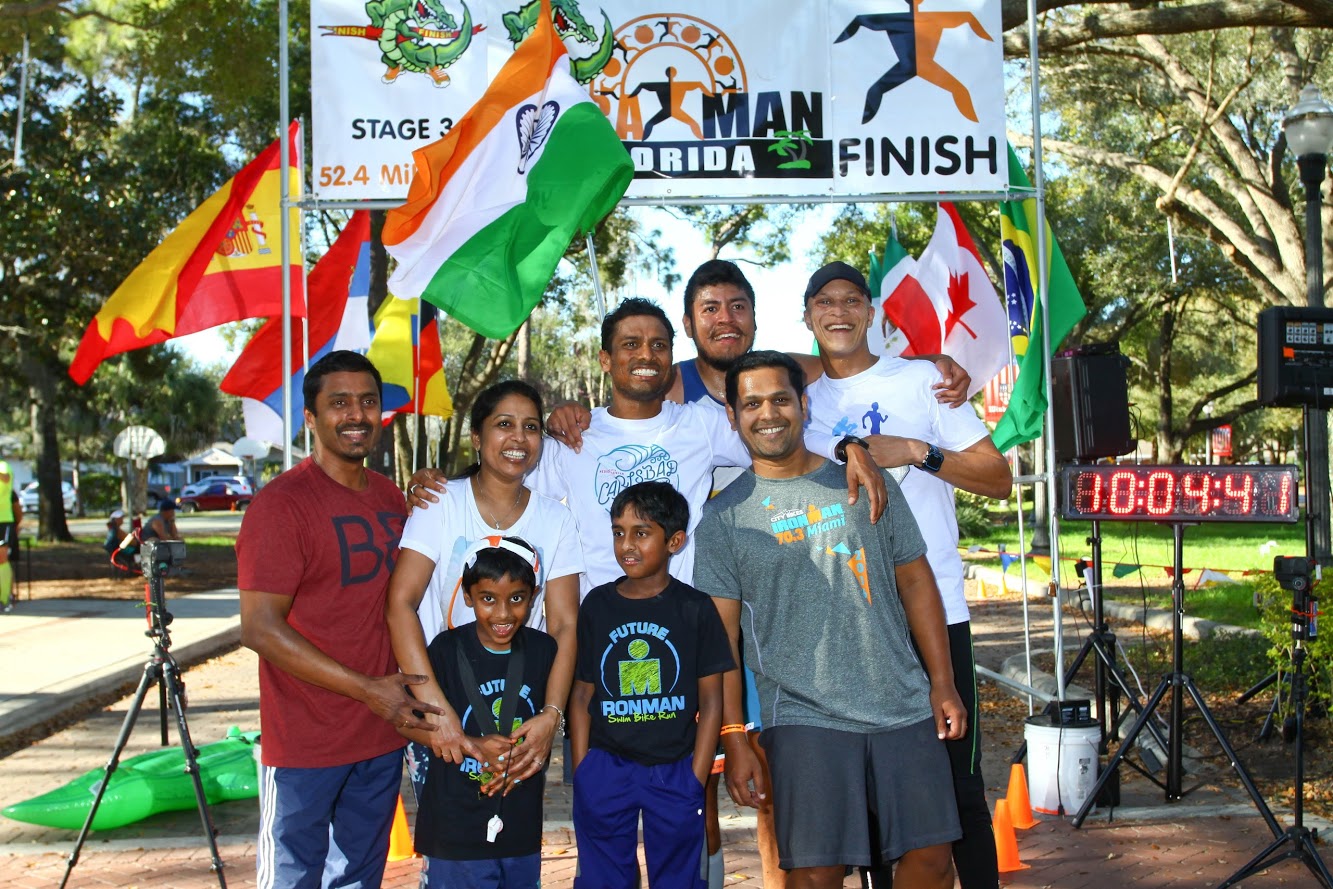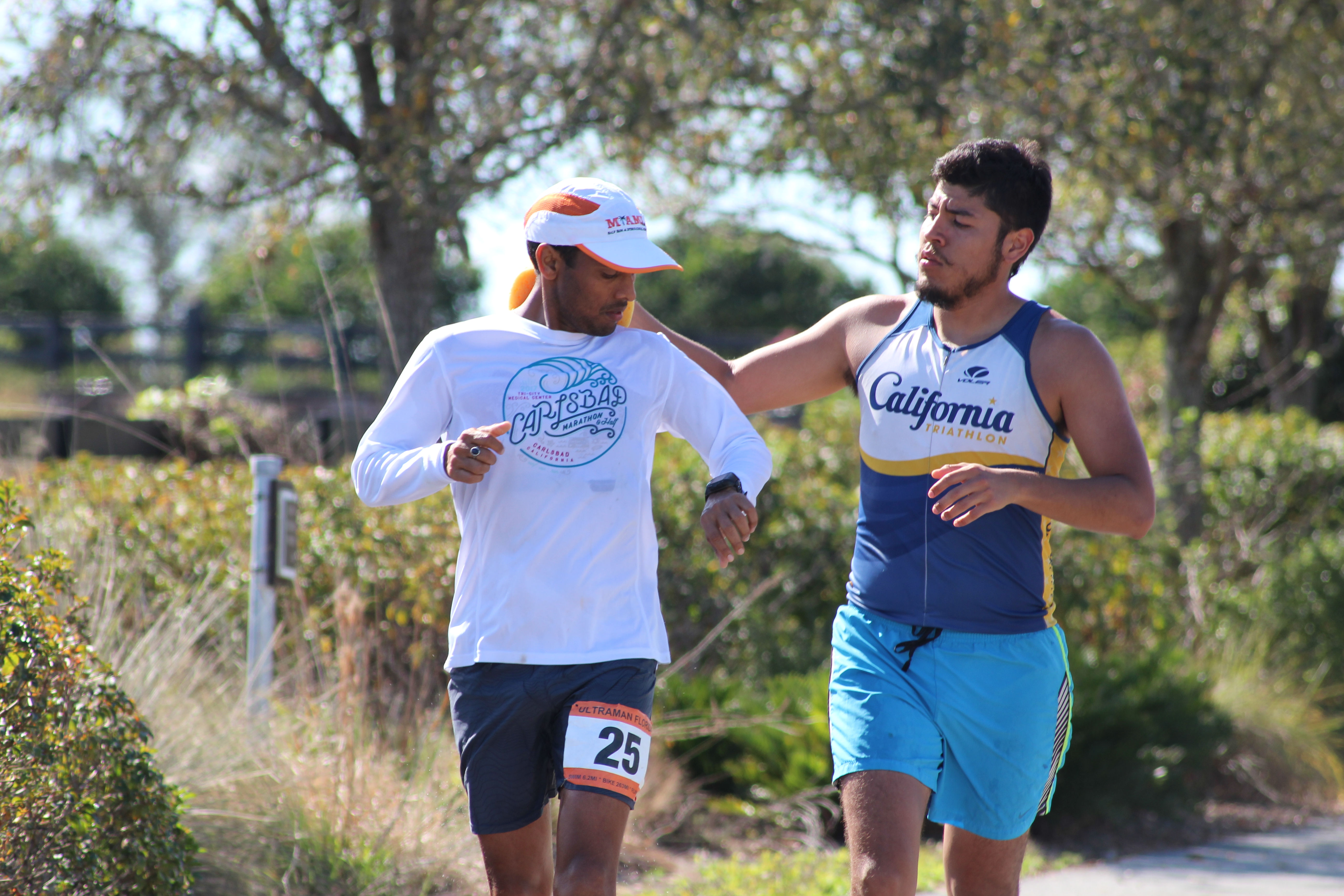 Race Stats: 
Completed Ultraman Florida 2017 in 31 hours 43 minutes and became the second Indian man ever to become an Ultraman.
Official Finish Time Split:
Day1 : Swim – 5:16:58 + Bike – 5:32:46           Day2: Bike – 10:50:59           Day3: Run – 10:02:36           Total – 31:43:19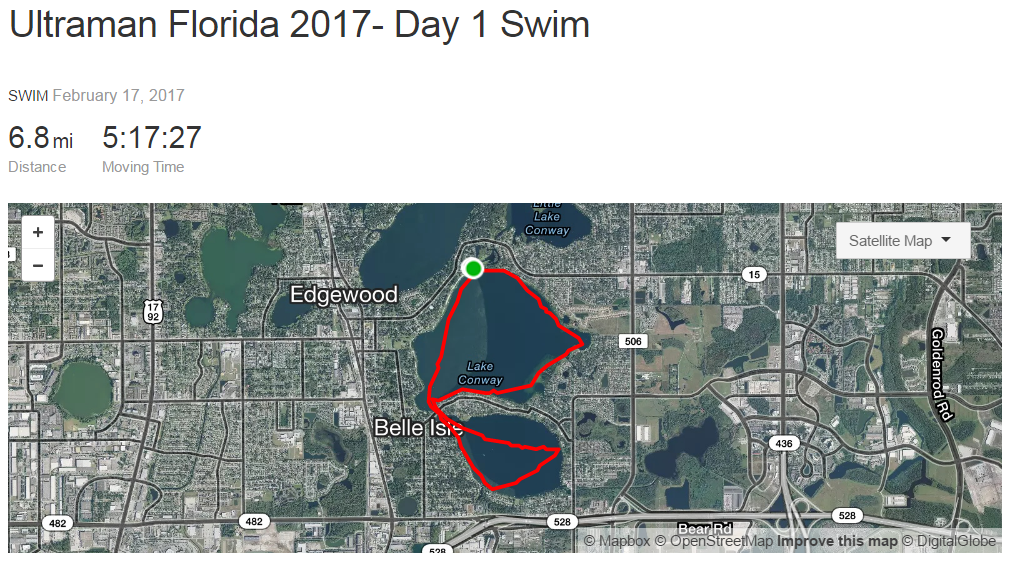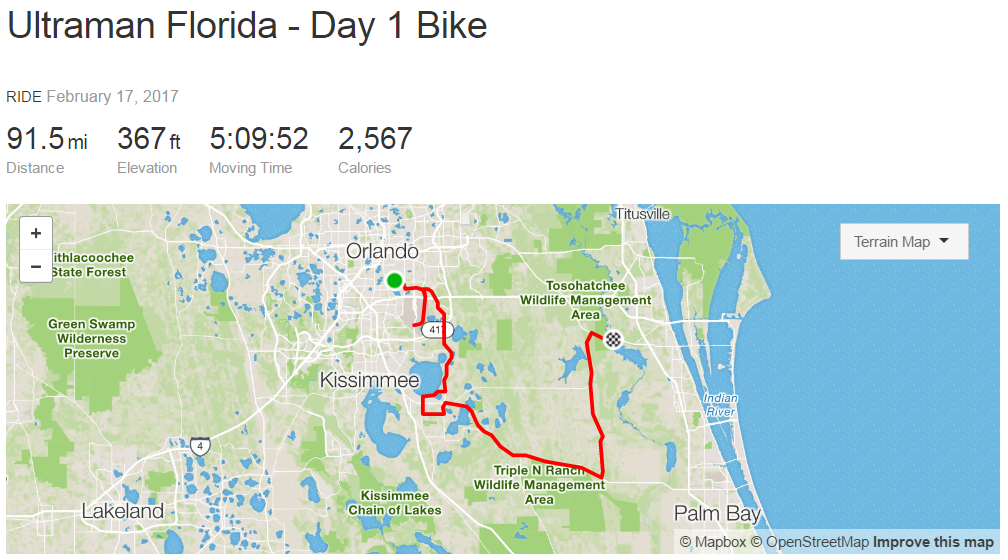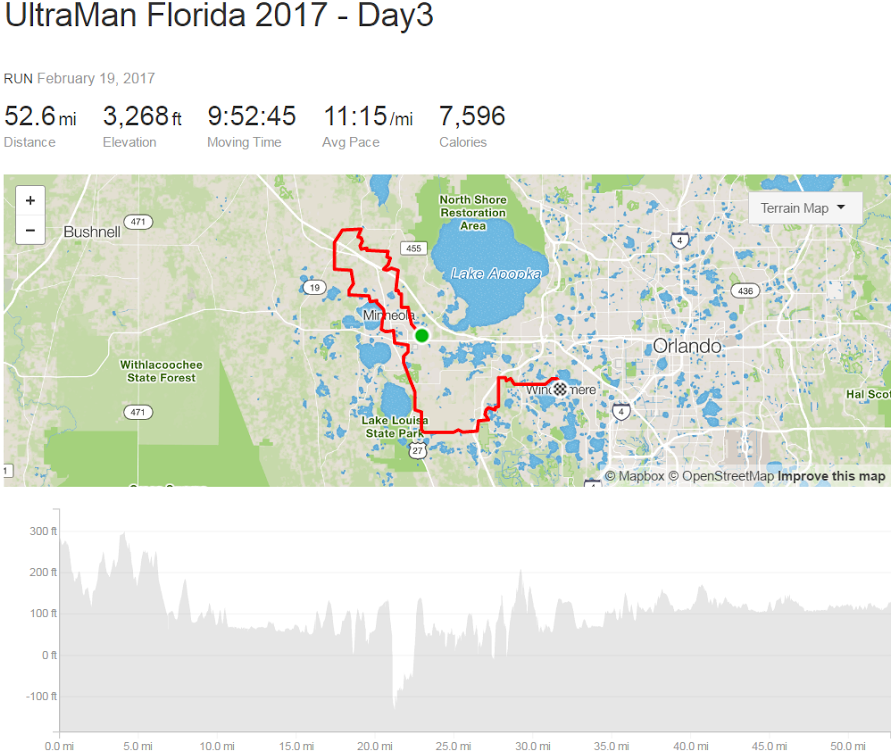 Marcos Moya – Ultraman Florida Crew Race Report